Theatrhythm Final Fantasy: Curtain Call us their detailed features in a new trailer
June 6, 2014
phoneia.com
---
Arrive on September 19.
Square Enix has distributed a new trailer Theatrhythm Final Fantasy: Curtain Call , the sequel this spin-off Final Fantasy music.
The video
us a lot of gameplay taken directly from
sequences, so we can have a look at many of the bosses to have to defeat her new modes, characters that we can control and the songs that we play Final Fantasy Theatrhythm
.
will be a Curtain Call exclusive music Nintendo 3DS
and collects the first issues of both numbered 14 in the series and its spin-offs deliveries. In total
include over 220 songs and 60 playable characters
.
September 19
is launched.
Video: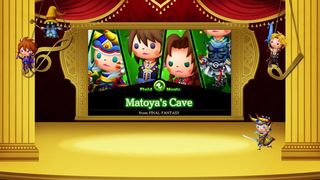 Vandal
Theatrhythm Final Fantasy: Curtain Call us their detailed features in a new trailer