Battlefield 1 was the best-selling game on the PlayStation Store during the month of October
It will reveal the data of the games of PS VR.
Sony has revealed which have been the games sold in digital format in their different consoles through the PlayStation Store during the month October.
Video: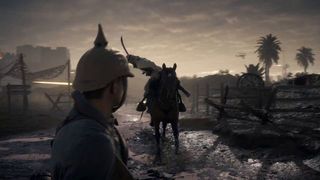 PlayStation 4 you find some surprises, as the podium of Battlefield 1 above FIFA 17, traditionally a video game undisputed at this time of year. We also see how Mafia III you get a third set and we observe the emergence of The Elder Scrolls V: Skyrim Special Edition. As a curiosity, and in addition to the platforms common, noting that Sony provides data of the video games sold in your new PlayStation VR.
PS4
1. Battlefield 1 (New)
2. FIFA 17 (New)
3. Mafia III (New)
4. Grand Theft Auto V (13)
5. The Elder Scrolls V: Skyrim Special Edition (New)
6. Destiny: Rise of Iron (New)
7. Uncharted 4: A Thief's End (Returns to list)
8. Rocket League (4)
9. Rise of the Tomb Raider (New)
10. The Last of Us Remastered (5)
11. Need for Speed Rivals (Back to list)
12. Batman: Arkham Knight (Back to list)
13. Batman: Arkham VR (New)
14. Minecraft (11)
15. Outlast (Back to list)
16. Dragon Ball Xenoverse 2 (New)
17. Farming Simulator 17 (New)
18. Need for Speed (Back to list)
19. PlayStation VR Worlds (New)
20. Middle-earth: Shadow of Mordor (Return to list)
PlayStation VR
1. Batman: Arkham VR
2. PlayStation VR Worlds
3. Until Dawn: a Rush of Blood
4. Here They Lie
5. Tumble VR
6. Job Simulator
7. Gunjack
8. Driveclub VR
9. EVE: Valkyrie
10. Sports Bar VR
11. Keep Talking and Nobody Explodes
12. The Assembly
13. Wayward Sky
14. Headmaster
15. Tethered
16. RIGS Mechanized Combat League
17. Pixel Gear
18. Harmonix Music VR
19. Battlezone
20. Carnival Games VR
DLC
1. Dark Souls III – Ashes of Ariandel
2. Rocket League – Triton
3. Battlefield 1 – Premium Pass
4. The Elder Scrolls Online – ESO Plus
5. Call of Duty: Black Ops III – Salvation DLC
6. Dark Souls II – Season Pass
7. Fallout 4 – Season Pass Bundle
8. Rocket League – Masamune
9. Rocket League – Batman v Superman: Dawn of Justice Car Pack
10. Star Wars Battlefront – Death Star
11. Rocket League – Supersonic Fury DLC Pack
12.Call of Duty: Black Ops III – The Giant Zombies Bonus Map
13. Minecraft – Chinese Mythology Mash-Up
14. Battlefield 1 – Deluxe Edition Content
15. Rocket League – Proteus
16. Outlast – Whistleblower
17. Fallout 4 – Nuka-World
18. WWE 2K17 – Accelerator
19. WWE 2K17 – Season Pass
20. Rocket League – Back to the Future Car Pack
PS Vita
1. Dragon Quest Builders (New)
2. Odin Sphere Leifthrasir (New)
3. Need for Speed Most Wanted (Back to list)
4. World of Final Fantasy (New)
5. Minecraft (3)
6. Dead Nation (Back to list)
7. Darkest Dungeon (New)
8. Resident Evil Revelations 2 (5)
9. Person 4 Golden (Back to list)
10. The Walking Dead: The Complete First Season (Back to list)
PS3
1. FIFA 17 (New)
2. Grand Theft Auto V (3)
3. Minecraft (5)
4. Call of Duty: Black Ops II (Back to list)
5. The Evil Within (Back to list)
6. Red Dead Redemption (4)
7. Destiny: The Taken King (1)
8. Plants vs. Zombies Garden Warfare (Back to list)
9. Gran Turismo 6 (Back to list)
10. WRC 5 FIA World Rally Championship (Back to list)
PS one/PS2 Classics
1. Crash Bandicoot (1)
2. Crash Bandicoot 3 Warped (2)
3. Crash Bandicoot 2: Cortex Strikes Back (3)
4. Crash Team Racing (5)
5. Castlevania: Symphony of the Night (Back to list)
6. Spyro The Dragon Trilogy (7)
7. Rayman (8)
8. Resident Evil 3: Nemesis (Back to list)
9. Rayman 2: The Great Escape (Back to list)
10. Legacy of Kain: Soul Reaver (Back to list)
(Visited 1 times, 1 visits today)
Battlefield 1 was the best-selling game on the PlayStation Store during the month of October