we Reviewed some video of some of the features that have already been revealed of the new Sony console will be launched in the coming year.
When PS4 already on a path to meet its sixth year of life and overcome the barrier of the 100 million consoles sold, Sony has given the first official details his successor, PlayStation 5, the name which we all take for granted that you will have, since it is not confirmed.
Mark Cerny, the designer, unveiled his architecture that will count with AMD, its ambitious bet for the end charging times, and that will be backwards compatible with PS4, among other things, that we reviewed in this video titled '10 things we know about PS5′.
Video: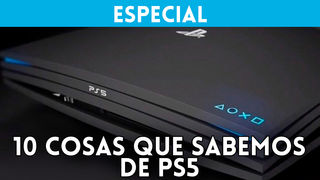 Still no release date confirmed, it is known that not come before march 2020, so that everything points to fall or christmas of next year would be the date chosen for the launch of PS5.
Taking into account that Sony will not go to the E3 2019, is not expected to have new details of PlayStation 5 in the next few weeks, although Microsoft could present their console of new generation, which is already announced in the E3 of last year, and we still don't know the details. According to AMD, both PS5 as the new Xbox will arrive in 2020.
More videos on Vandal TV
we remind that both this video as the analysis, videos of gameplay and all kinds of reports of Vandal TV, you can see here on the website and in our YouTube channel.
10 things we know about the PlayStation 5
Source: english
May 19, 2019