Only 22% would have completed Red Dead Redemption 2.
many players love the games that are offered an open world or extensive explore and enjoy. But, really, how many are able to complete the game? A recent study tries to shed some light on this question and the data are quite curious.
Video: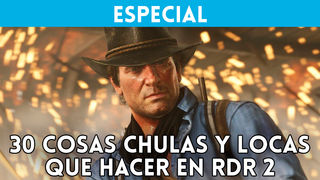 Only 22% has completed Red Dead Redemption 2
Already said in his day the director of the God of War Cory Barlog: "open-world games are how to do homework". And it seems that some players still have pending tasks with the latest achievements of the industry.
For example, as reported by GameRevolution in a study on the 12 big releases of PS4, only 22% would have completed Red Dead Redemption 2, the adventure in the wide Wild West that they have presented us with Rockstar recently. In turn, 50.3% of the players would have accompanied Peter Parker to the end in Spider-Man.
50.3% the players would have ended Spider-Man
The own God of War, without going further, has been completed by a 53.6 per cent; while Far Cry 5, which invites us to face up to the sect of The Gates of Eden, have completed 35.8%.
Person 5 has completed the 34.8% of the players, while only 24.6% users would have ended the story of Assassin's Creed Odyssey, the installment of the saga of Ubisoft that takes us to Ancient Greece.
challenging Dead Cells what would be over 15%. Darksiders 3 account with 37.9%, and Detroit: Become Human a of 61.7%. On the other hand, Uncharted 4: The Outcome of the Thief has been completed by 41.7%, and Yakuza Kiwami 2 with a 49,1%. Finally, Crash Bandicoot N. Sane Trilogy has only completed 12.6%.
you Can refer to the study conducted here.
A curious report details how many players finish games