The user "dustrho" has used creative tools in the online game of Bethesda to build a place in which players can pay homage to the NBA star.
Kobe Bryant died on the 26th of January in a helicopter accident along with his daughter Gianna and seven other people who were in the unit. Since then, the world has mourned their loss in different ways. There have been tributes official in NBA 2K20, amateurs that ask for your presence on the cover of NBA 2K21>/i> and even people wearing their avatars as virtual as the star of The los Angeles Lakers. Even a player of Fallout 76 has created in the world multiplayer post-apocalyptic Bethesda an altar so that the players can pay tribute to the legend of the NBA and talk about it.
"I Wanted to have a way in the game for the players to present their respects for the tragic loss of Kobe Bryant, so I made a small altar," the user account "dustrho" in the subreddit of Fallout 76. The altar shows with neon lights the letters "RIP KOBE" and the numbers of the two dorsal that has carried throughout his career in the NBA: 8 and 24. The space, located on the hillside of a mountain, has a basket of basketball, candles, a shelf full of balls of basket and two stools for players to sit down.
The altar can be visited in the PC version of the game
"people have stopped, have fired their weapons in the air, have left gifts as tribute and have been sitting on those benches, just to talk about him, his life, and what happened on the 26th of January," added the player. End the publication inciting other users of the computer version of the game to visit the shrine: "If you want to see for yourself, I'm on a PC, dustrho (to the west of Whitespring). #ripkobebryant #ripmamba".
Video: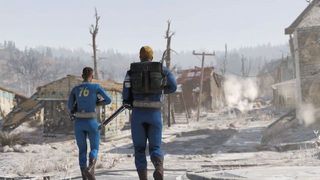 Since its launch in November of 2018 Falliut 76 has not starred in too many headlines that talk about the success of the game, or the latest positive developments that Bethesda has added. Despite the criticism by players and specialized media, the title has a dedicated community that creates new ways of enjoying the title, as to manage a service of pet adoption free or creating puzzles ingenious for enjoyment (or suffering) of the players that get caught in them.
A player of Fallout 76 create an altar in memory of Kobe Bryant
Source: english
January 29, 2020