The game will not feature with this chase, at least for the moment.
The study of Bandai Namco Project Aces has confirmed that Ace Combat 7: Skies Unknown will not enter in the game one of its planes classic: the F-15 S/MTD (or its variant, the F-15 STOL/MTD).
The game's producer, Kazutoki Kono, has revealed on Twitter in the wake of questions from a fan, that the new title of the saga is not going to have with this model, craft in the air for the first time in 1988.
The plane was present in games like Ace Combat Infinity and other deliveries of the saga, but it's not going to be part of the fighters available in the new title because, according to Kono, to a lack of time.
大変申し訳ございません。皆さんが楽しみにしている機体を収録できなかった時、いつもどうお返事して良いのか、とても困惑いたします。
7では、活躍の機会がありませんが、また登場できる場を作るように頑張ります。引き続き、応援をお願いします。— Kazutoki Kono (@kazutoki) January 3, 2019
Despite all of this, Kono leaves open the door open to a later incorporation, so that it is possible that the team is evaluating the inclusion of more planes and content in the form of additional downloads.
Yes it will be present in the game, yes, the F-15C, presented in video:
Video: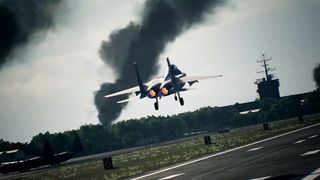 Ace Combat 7 dispenses with the veteran F-15 S/MTD
Source: english
January 6, 2019