earlier this year, the creator of the popular Action Launcher brought us your improved version of well-being digital of Google with ActionDash, to bring any device to its propiar tools to ascertain the use that we make of our device and applications to allow us to disconnect if we see that we make an excessive use.
Now AcionDash updates to the version 3.0 to add three features frequently requested by their users in addition to other small improvements. These are all the new features:
what's New ActionDash 3.0
Focus mode
Action Launcher is well ahead of Google and add one of the new well-being Digital you will receive soon: is Focus Mode. It is a mode that allows us to choose the applications you want to disable when you want to be concentrated. So with just the touch of a button we no longer be able to spread any game or app. Yes, this news as the following are available only to users who paid 4,99 € for the full version.
usage Limit
We had to wait for the version 3.0 of ActionDash to be able to establish usage limits for each application. Now we can say the time that we want to use as maximum of one application each day.
Wizard
Under the name of 'Usage Assistant', you can activate a new smart reporting we show you statistics contextual, with the use of the application you have open at that time.
dark Theme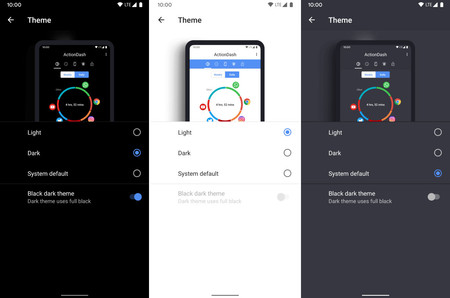 The paid version ActionDash debuts a dark theme fully black but added to the previous dark theme to the free version.
Improvement on the interface:
finally, in this update do not miss the improvements on its interface, with improvements in its design to conform to the new guidelines for Material Design to display content below the navigation bar.
ActionDash: Digital Wellbeing & Screen Time helper
More information | Action Launcher
we Also recommend
The dock with a search bar below it reaches to all with Action Launcher 29
AdaptivePack of Action Launcher brings the icons adaptive to Lollipop or higher, for a price
Action Launcher launches ActionDash: your own version of the well-being Digital for any mobile phone
–
The news ActionDash 3.0: the well-being digital Action Launcher ahead of Google and added Focus Mode was originally published in Xataka Android by Cosmos .

Xataka Android
ActionDash 3.0: the well-being digital Action Launcher ahead of Google and added Focus Mode
Source: english
July 1, 2019