CARLES RULL
Producer and writer, presented in Sitges his debut feature film, the horror thriller 'Summer Camp'.
The film is supported Jaume Balagueró as producer.
The action takes place in a summer camp in Spain, although most of its characters are American.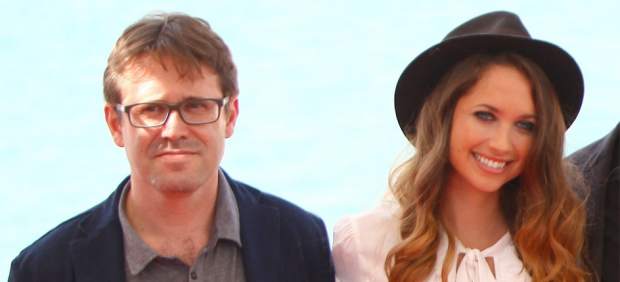 Among the projections seen in the href="http://www.20minutos.es/minuteca/festival-de-sitges/" Sitges Festival, the film Summer Camp combines classic slasher Friday 13 with the theme of the href="http://www.filmaffinity.com/es/film575554.html" infected [?? REC]. Its director, Alberto Marini debuts in the film and not coincidentally was also screenwriter [?? REC ] or href="http://www.20minutos.es/noticia/1184755/0/jaume-balaguero/mientras-duermes/sitges-2011/" While you sleep href="https://es.wikipedia.org/wiki/Jaume_Balaguer%C3%B3″ Jaume Balagueró ; also the most recent Extinction or href="http://www.20minutos.es/cine/cartelera/pelicula/34530/extinction/" Unknown . Born in Turin, Italy, in 1972, Marini is also producer, novelist and an avid fantastic. Summer Camp , which could be released next year in our cinemas, framing his action in a summer camp in Spain, where four monitors, two boys and two girls, awaiting the arrival of the children the next day . At night, a strange force seizes them making furious animals, ready to kill each other. The argument might sound trite, however contain a surprising peculiarity best not to reveal. The same Alberto Marini tells us the first details about the film.

So far, the film has been well received by the fantastic fans at festivals? world Film4 FrightFest presented in London. An audience that only knew of references. And there I was. Delivered a very public, very participatory. There are also often screaming and clapping during the screenings. I think it's a memory that I will be for all my life.
you decided to make his debut in the film a slasher. I have obsession with the genre since I was a kid . Was 10 when I saw href="http://www.filmaffinity.com/es/film456375.html" Deep red , Dario Argento. I was terrified and fascinated me at once. It was hard to finish. In fact, I did not see at once. I was watching the tranches. It became a challenge I set myself. Following Deep red I was looking more and more horror films. Then I told my parents that most did not want to be a vet but horror film director. Then life throws you in your place. I started in the cinema, not as director but doing other tasks that I liked very much, executive producer and writer. And now I could fulfill that dream of my childhood.
Your vocation little by being a veterinarian is also consistent with studies that are doing the main male character of 'Summer Camp' There are some personal issues such as veterinary being or glasses, that I'm always afraid to break or lose.
'Summer Camp' has few characters, few scenarios and However, both the frames and drawings, without being at all recharged, are made, how it worked in the staging? Here is the quality and security that gives a cinematographer as Pablo Rosso, [?? REC ]. If anything I have used the years of industry experience is you have to try to surround yourself with good professionals. I got the producer fichara the best. We also Steinbrecht as artistic director Silvia, her house looks much better than the original decorated; the makeup team, both natural and especially is very good; and this causes a first-time director like me can feel safe in what the film win in quality.
Do thumping sound effects and also help being scared, because from the first sequences? Here we have another winning horse, the team of breeze . To understand, breeze it is the company with which, for example, Guillermo Del Toro always want to work, or yes. They are in Barcelona and are phenomenal.
The film seeks the effect of terror and anguish combined with humor and comedy. What can inspire a comic effect or a gag on a horror film? With a film as fantastic genre like ours can not take everything seriously. I needed a laugh at herself. Intended to frighten, transmit distress the viewer, but also give some relief, they can release a laugh or a smile to resume breath and then again suffer adrenaline. Laughter and terror have always gone hand in hand, is very common. Any reason to cause the valve with humor is gladly.
During one of the presentations at the Sitges film called a thug? Yes, the premise that obviously has. Nor does it claim beyond the history that you have. It is a pure entertainment film, with that thug touch.
Does it cost to sell a horror movie, which hits theaters, even quality? Your market is often more Internet VOD or Blu ray and DVD? I think the best test we had last year with It Follows may like more or less, but more or less what there was unanimity in the best horror film of the year. In Spain, for example, just it worked. Since the terror became fashionable it has increased the supply of products in circulation. The more independent productions must have an element that makes them different, must have an original plot premise to demonstrate that the viewer will see a new fear or never tried before.
and opted for an international cast, filming in English. Filmed in English and commensurate with the size of the film, also we bet on emerging actors. We href="http://www.20minutos.es/minuteca/andres-velencoso/" Andrés Velencoso , in his second film, spends more time on the catwalk fashion, but I think cinema has a lot to say; href="http://www.imdb.com/name/nm1546300/?ref_=tt_cl_t1″ Diego Boneta is a star especially in the US and Latin American market, now is one of the protagonists of the series href="http://www.imdb.com/title/tt4145384/?ref_=nm_flmg_act_5″ Screem Queens ; meanwhile, Jocelyn Donahue href="http://www.imdb.com/name/nm2439994/?ref_=tt_cl_t3″ is already an icon of terror; and href="http://www.imdb.com/name/nm2118666/?ref_=tt_cl_t2″ Maiara Walsh is another American actress upswing.
When filming, thinking more of 'Friday the 13th' or '[?? REC ]'? I thought of many things. The film plays with the audience and the codes of the genre. The title itself evokes films like Friday 13 or Piranha ; but once the viewer sees as the summer camp I think I realize it will not be the classic slasher . And as for [?? REC ], our infected have completely different rules. Is to reverse things.
About the idea of ​​infected 'Summer Camp' , is a bit unlucky that coincided almost the same time with another similar idea was used in Kingsman. Secret agent '? Do not know if you've seen? Kingsman in the film enjoyed as a dwarf. When I saw the room, I do not think it was similar to the same; but there are different rules, are cleaner. And now, the sequence, in the church is the best of modern cinema.
To what extent has helped Jaume Balagueró, producer here? It has helped two Very important fronts. One: once your name is associated with a project opens doors, especially in the American market and then also on the creative side, as an advisor throughout the process of the film, but always with absolute respect towards my criteria . It says a lot for this nice of them.
Does your favorite scene? I think it's one that I just like me. There is a moment in the end, without spoilers, when two of our monitors just made a very ugly thing and yell, scream with his mouth full of blood. It represents the release of the inhibitory state. And are totally evil, villains, and feel free.
How has said, it's pure entertainment, but we find in 'Summer Camp' some kind of sociological message ? It is pure entertainment, a very small project. Although it has its social and anthropological look like werewolf. It is a day to be that morning loses all inhibition and unleashes the animal within. I believe that man, by nature, tends to evil. It is evil, but is inhibited to live in society. So he represses his instincts and does good. Summer Camp for me, and partly an opportunity to discuss this issue; and if you really look closely at what they do each other at the level of savagery are tied
Alberto Marini: "In horror films there is to offer new elements"
Source: english
October 16, 2015