DANIEL G. Aparicio
Alexandra Jimenez presented the new season of 'The comedy club'.
has just premiered in theaters comedy 'not Wednesdays there '.
The actress says that having to sing, something that had to do in the film, it was like coming nerves and sense of vulnerability of its inception.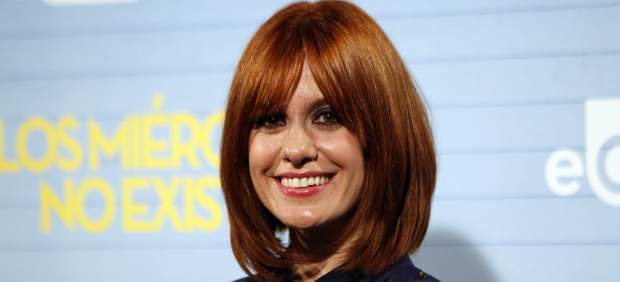 He became known as the Young Africa in Los Serrano , he received critical acclaim thanks to The fishbowl of Eva and since then he has not stopped lavishing in film, theater and television. Now the actress Alexandra Jiménez Zaragoza triumphed on the small screen as host of The Comedy Club and can be seen in theaters as one of the protagonsitas comedy of romantic entanglements Wednesdays No . Meanwhile work, smiling interpreter takes some time to chat with the press about his many works.
His latest work is a comedy of entanglements, it sounds like fun task.
It was a very nice, very creative process. We have had many previous trials and a process of creating before and during filming, so I think we've all come out with the feeling of having grown a bit.
The film talks about friendship and love affairs, how much is truth and how much is hype?
I think there's a hundred percent true. What counts are very connected to reality stories, love stories featuring characters who constantly contradict that mess up and that is what humanizes and brings them closer to the viewer. I think in that sense is very sincere. Then there is a license that is music.
What role do the musical numbers?
are incorporated into the film by way of musical thinking about, are the moments greater intimacy of the characters. Suddenly you see them stripped of all those lashes we have to protect ourselves, you see sincere in moments of privacy. It is very nice and very funny, you laugh and, above all, leaves you an interesting grounds to see all pass us the same things and often pretend that reality would have been different from what it is.
How does that of love?
To me the truth is that I was too shy, singing in public makes me very embarrassed. But having the opportunity to take on this gives you some feeling back to your beginnings, something very new in what you feel very vulnerable and very innocent at the same time. Recover it is very beautiful.
What is what you like to sing?
What I love is knowing how to sing extremely well, but not my reality.
To sing in the shower or karaoke no need to sing well.
No, and to sing in this film is not a requirement. I think the key is to sing from the heart rather than sing well.
The story features a group of thirty-somethings in emotional crisis, is there a crisis of the thirties?
I think the man is in crisis begins to be aware that he has to make decisions.
It seems that always ends in comedy, is the genre that you like?
I like everything. In comedy there are many genres. In fact, I rarely let me do comedy comedies. Sometimes I even missed do more comedy into comedies. Such is the case of this film, which have little comic percentage. The character suffers and not addressed in a comical way too. It is probably true that gender where you decide to name the film in question coincides normalemente that are comedies but the feeling I have is that every time I face different genres, different characters. In essence, every time I care less how you can catalog the story you are telling, what interests me is whether I am able to understand the character and especially if I can convey well the viewer.
What kind of character would you like to do that has not already?
There are so many characters I've done that I love to do. I really like the contradictory characters. I would like to make a character that was full of these contradictions and not justify at all. That is interesting to me.
Something like an empathetic villain?
Yes, for example, but you do not need to redeem at the end of history.
Although he says he makes little comedy within the comedy, you are the head of the club named the genre, how does its role as host of The Comedy Club ?
Well, I do not really consider me a presenter, I think it's an acting more work. It is very difficult and different, because obviously requires a different technique, but get on stage and do monologues, is an acting job.
What do they say about it ?, maybe the shadow Eva Hache is very long?
The truth is I'm a little outside of comments. The things that come to me are nice and beautiful. I guess people are closer to say nice things to say ugly things (laughs). But equally there will be who would look good and be who would look less good, but as I also happened to me as a spectator seeing many things.
What do you see as a spectator?
I see more films series. I follow some costs more, I do not have much discipline … and I'm not proud of it, huh ?. Have many outstanding series to see and increasingly is by desiring me to, but I tend to watch movies.
How do you remember the character of Africa, The Serrano ?, do you have affection or has already taken him some mania?
Mania you can not take something that has only brought me good things. I remember it as a happy time in my life where I was working like crazy ?? thank God that I have not lost ?? and where I had the opportunity for a long time to develop a character and never end to meet at all.
Perhaps the work for which it has received rave reviews by The fishbowl Eva .
Another very nice character. I think I learned a lot about the character of the series, the way in which we worked, dialogues, arguments …
Do not you think the series was a bit battered the programmed time?
In the world of television everything always happens in a very fast and very sharp. I guess if it works well is because there is something much more powerful than the products themselves itself. All must have some reason for being. I am not a professional of that, then I do not understand and probably never understand, because I know how it works. I can only limit to concentrate on trying to tell the story in the best way possible and The fishbowl … was told with great sincerity by both the artistic team and the technical team. I think we put all do our part and that, regardless of when the put or where and why, had a significance that exceeded all limits, and that's because the story was interesting enough.
You who has worked in many mediums over the years, has noticed the crisis at all?
Yes, yes, in all areas. In the cinema, the theater, on television … and ask that anyone who engages in anything else I imagine it will tell you that has come to be affected, of course.
what do you personally have you noticed?
Well, I guess working conditions are not the same. We have to give a result with very few facilities to give. We often have to start the imagination, for being creative side is fine but otherwise feel absolutely counterproductive precedent, because it is work that must be cared for and well-made things have to be done well. It give a result without any easy to get there is a demand and a holding should not be.
did you hear about the controversy and Imma Cuesta ?, retouched photo happened to you something before?
No, I have not seen in a similar situation, I can not say. As to you, to me all the reactions that come from the heart and the need to express themselves seem fine.
Alexandra Jiménez: "The human being is in crisis since seen to be making decisions"
Source: english
October 27, 2015