Google has updated the firmware of your Chromecast to add one of the features that many users we had been ordering for years: the support audio multi-room.
Now the only place you could play music throughout the house with the device Chromecast Audio and speakers with Chromecast built in like the Google Home, well, now with the Chromecast for television we can.
Chromecast in your group of speakers
With the new version, you can now listen to music in multi-room by adding all of the Chromecast and compatible loudspeakers you have in your house. The same music is heard in all tvs and speakers selected.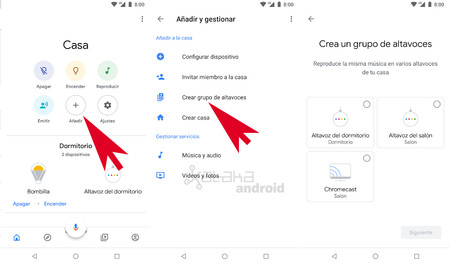 To do this so we just have to go to your Google Home and go to Add > Create a group of speakers. There we select the speakers and Chromecasts, we assign the group a name and already we can hear the music throughout the house.
at the moment the Chromecasts are configured as a group of speakers only play the audio. If we use YouTube Music will not send the video clip to the telly. Perhaps in future updates we can see the video clip on the tv while the song sounds throughout the house.
Via | XDA-Developers
we Also recommend
what HOW WILL BE THE ELECTRIC VEHICLE OF TOMORROW?
Google Home brings to life the stories of Disney by adding music and sound effects
well-being Digital starts to get to the speakers Google Home
–
The news All Chromecast now support audio multi-room, you can add them to a group of speakers with Google Home was originally published in Xataka Android by Cosmos .

Xataka Android
All Chromecast now support audio multi-room, you can add them to a group of speakers with Google Home
Source: english
November 18, 2018