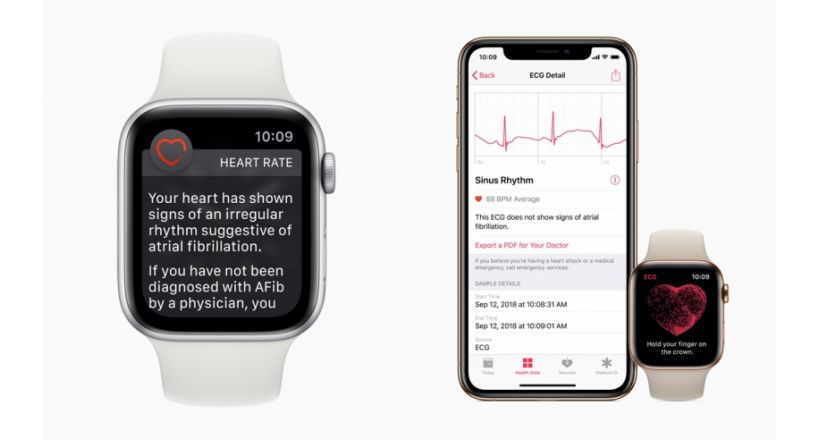 last week Apple updated the operating system watchOS 5.1.2 of the Apple Watch, allowing users with Apple Watch Series 4 can access the new function of electrocardiograms taken directly on your wrist.
The application allows you to perform an electrocardiogram, recording the heart rhythm at the time, when you feel symptoms as a rhythm choppy or too fast, to provide data to physicians. The function of irregular heart rhythm may also record the rhythm automatically and send a notification if it detects an anomaly indicating a atrial fibrillation, one of the indicators of a possible stroke.
The new electrodes included in the rear glass and the Digital Crown of the Apple Watch Series 4 working in conjunction with the application ECG. To perform a electrocardiogram to enable the application to ECG, and keep your finger on the Digital Crown, which allows you to shut off the circuit of electrical signals to measure the heart rate. The process takes 30 seconds and classifies the heart rhythm. The logs are saved in the application Health and can be shared as PDF with your doctors.
The optical sensor of heart allows you to use the function of irregular rhythm, which occasionally checks the heart rate of the user to detect signs of irregular rhythm. If it is detected in a control of five rhythms for a minimum of 65 minutes, a notification is sent. Tests have been conducted on the accuracy of the records made by Apple Watch, demonstrating a sensitivity of 98.3% in the classification of atrial fibrillation.
watchOS 5.1.2 is now available for download.
Already is available the application to ecgs and notification of irregular rhythm on Apple Watch
Source: english
December 14, 2018