So, as has been stated from BioWare.
After the controversy that involved the release of Star Wars: Battlefront II, has a place for players to ask themselves if they have to pay for additional content in the new titles of Electronic Arts. However, the company assured that he had learned the lesson games like Anthem does not have microtransactions.
Today has been the turn of Michael Gamble, producer of this action RPG, to reaffirm that the game will not count with boxes of loot:
We aren't going to add loot boxes. It serves no purpose. The cosmetics and mtx plan is what we've outlined. Legion of dawn is 4 new armour packs. They aren't just skins. Each javelin has 4 armour bit. You get 16 with LOD + wpn + other goodies— Michael Gamble (@GambleMike) 11 January 2019
"we're Not going to add boxes of loot"
"we're Not going to add boxes of loot. do Not have any purpose", wrote Gamble faced with the question of a fan. "the Legion of The Dawn are four packs of armor. Not only are skins." In this way, detailed that players would get 16 new items that include, the Legion of The Dawn, weapons and other items.
Recently, Gamble also pointed out that there would be a season pass. In turn, BioWare stated that the contents of the history of the game will be equally free.
Video: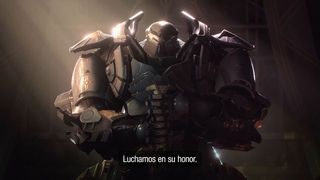 Anthem is scheduled to be published on the 22nd of February on PC, PS4 and Xbox One. You can read our impressions here.
Anthem will not have boxes of loot because they 'have no purpose'
Source: english
January 14, 2019