The Battle Royale Spawn every two days a new event for a limited time, from January 14 until January 28, in addition to many rewards.
Apex Legends boots 2020 with a frenetic pace at present the new large event arcade titled Great evening (or Grand soirée). Fans of the Battle Royale of Respawn Entertainment are in luck because the title will host up to 7 new game modes for a limited time from the day January 14 until January 28,. Each game mode will last for two days and there will be many unique rewards to get. Get to know all of the details below!
The 7 modes of game event Arcade Great evening
"We have the pleasure to invite you to two weeks of chaos"refined" , says the press release for EA and Respawn. Don't miss it, because we will have 7 game modes ranging from classics to new and exotic additions. Brad Pettigrew, director of production of Apex Legends, has been given the task of communicating what these new events that may be played from the 14 January to the 28 of January in this event-style of the twenties.
Duos gold rush: – only weapons of gold, with you and someone else.
third-person Mode: sometimes it is good to try things from another point of view.
Armed and dangerous End of the world: shotguns and sniper rifles with armor limited.
Night of shenanigans in the Canyon of the Kings: plays in the Canyon of the Kings at night.
The great day of the Dummies: this game is not going to be test only.
to Live, to die, to live: reappears automatically with living members of the platoon when the ring is closed.
Close ongoing: continues to advance, avoiding serious damage from a ring that does not stop.
You are cordially invited to the Grand Soirée Arcade Event! 🎉

to Kick off the decade in style with a new mode every two days, seven limited-time rotating modes total. Earn fabulous rewards with our new Challenge Scorecard and dress to impress with all-new cosmetics. See you there! pic.twitter.com/T5QJfvtWAN— Apex Legends (@PlayApex) January 9, 2020
Remember that each game mode will have a limited duration of two days.
The prizes and rewards of the event
of course, an event of these characteristics would not be the same without fabulous prizes for get. On this occasion can be complete challenges to earn points arcade and get rewards for prestige during the event. In addition to the store of purchase direct from the event will elements cosmetics exclusive Art Deco-inspired for 5€ and other new additions to the main group of boots.
We have modified the challenges of the event to include a new registration system of offering prizes to all the players more rewards and more ways to get them. Each mode for a limited time will include three new challenges, with a total of 1000 points. Also you will receive a special badge by testing each mode.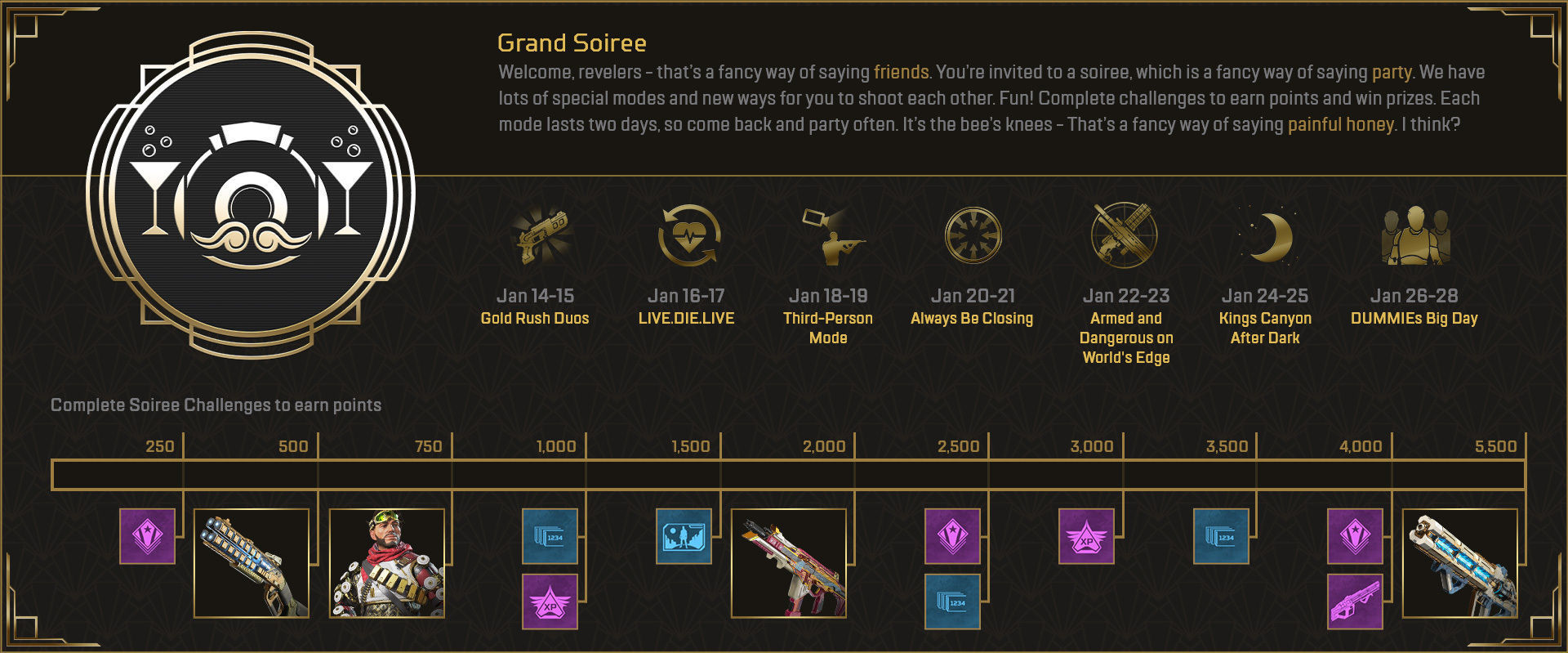 weekend extra score
finally from Spawn make us know that there will be a weekend of extra score, where you will be able to participate in an additional set of challenges specific to the event by a total of 500 points. The additional challenges will be available from the 17th of January at 10:00 PT (19:00 CET) until January 20, at 10:00 PT (19:00 CET).
Apex Legends fired makes few days the event for Christmas that so many of the amusement generated among its community of players. The video game was one of the more media of the year 2019. Do not hesitate to visit our full guide – filled tricks and tips for getting the most out of to this Battle Royale.
Apex Legends premiered the event to Great Arcade evening with 7 game modes
Source: english
January 10, 2020