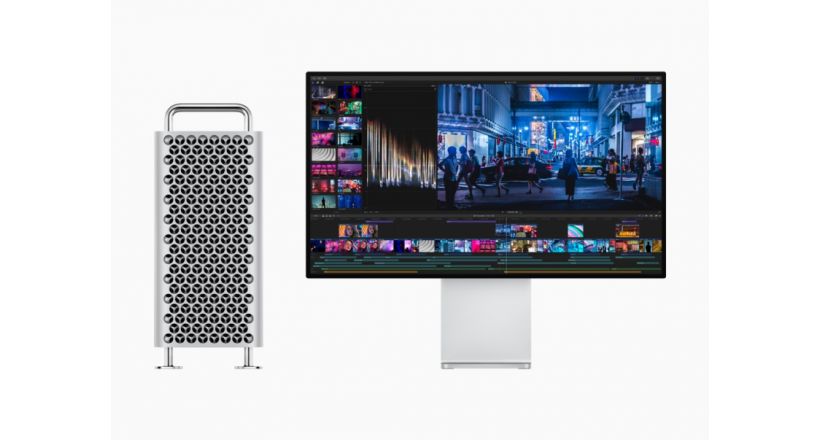 During the keynote of WWDC 2019 Apple unveiled its new Mac Pro, a completely redesigned, as well as your Apple Pro Display XDR-tb. The new Mac Pro has been designed to achieve the maximum performance, expansion and configuration options, account with Xeon processors of up to 28 cores, system memory of high performance and capacity of 1.5 TB, eight expansion slots PCIe and graphics of the last generation. Account in addition with Apple Afterburner, a hardware accelerator card that allows the playback of three video streams 8K ProRes RAW simultaneously.
The Pro Display XDR has a display Retina 6K 32" P3 with color, 10-bit, and brightness of 1,600 nits, with a range of contrast 1,000,000:1 and viewing angles super extensive.
The new Mac Pro has been designed for users who need a computer of high capability to perform a job that is too demanding. The device is equipped with Xeon processors of up to 28 cores, with 64 PCI-Express lanes. It also has a thermal architecture of 300W to be able to work without problems at any time.
With respect to memory capacity and expansion, the Mac Pro has a memory architecture of six channels with 12 slots DIMM physical, allowing a memory of 1.5 TB. In addition, it has eight expansion slots PCI Express to customize and expand the system according to the needs of the user.
The Mac Pros are used to perform demanding tasks of graphics, whether compositing 8K or creating environments in 3D, the graphics are very important. Mac Pro uses plates of more powerful graphics, with a graphics performance up to 56 teraflops in a single system. The architecture of expansion of graphics Apple MPX Module, you have integration, Thunderbolt and 500W of power. MPX Module is cooled with the thermal system of the Mac Pro for quiet operation. The graphics options start with Radeon Pro 580X, but there are also the options of Radeon Pro Vega II (14 teraflops and 32GB of memory with 1TB of memory bandwidth); Radeon Pro Vega II Duo with two GPUs Vega II, graphics performance of 28 teraflops, and 64GB of memory. Can also accommodate two MPX Modules, you can use two Vega II Duos of 56 teraflops and 128GB of video memory.
Afterburner is a card of acceleration, with an ASIC programmable with ability to decode up to 6.3 billion pixels per second. Now you can use the native formats directly from the camera and decode up to three video streams 8K ProRes RAW and 12 video streams 4K ProRes RAW in real time.
The exterior design is not less important. The Mac Pro has a stainless steel frame with an aluminum cover that can be lifted up to access the 360°. The structure enables the modular system and the flexibility and features handles for easy transport. The cover has a design to improve the aeration and the quiet operation.
Along with the new Mac Pro are presented Pro Display XDR, with an LCD panel of 32", resolution 6K Retina of 6016 x 3384 with more than 20 million pixels. The display XDR allows you to enjoy a high-definition experience, with a color gamut P3 and colors 10-bit with more than a billion colors, allows you to create images completely real, something that is very useful for editing photos and videos, 3D animation and more.
The display has a coating anti reflection with a new matte option called nano-texture. The display uses a system of retro-illumination with LEDs that produce a brightness of 1,000 nits and 1,6000 nits at the peak of their brightness. To reflect what the eye can see, the Pro Display XDR takes the high dynamic range (HDR) to another level. Along with the brightness and contrast 1,000,000:1 images have glare never-before-seen black and super dark.
The design of the new displays is screen edge-to-edge, with edges super thin 9 millimeters, all in a casing of aluminum. The display has a flexible design, with a stand Pro Stand against balancing the display and that allows you to accommodate the position of multiple ways: both the pivot as the height, as well as the possibility to rotate it in portrait format. You can also remove easily, and can be a VESA mount. Account with a single Thunderbolt cable 3, easily connects to Mac computers, including the new Mac Pro, which has support for six displays.
The new Mac Pro has a starting price of 5999 usd and will be available to order starting in September or October. The display Pro Display XDR has a price of 4999 dollars, the stand Pro Stand $ 999 and the adapter VESA Mount Adapter $ 199.
Apple introduces its new Mac Pro and the new Pro Display XDR
Source: english
June 6, 2019