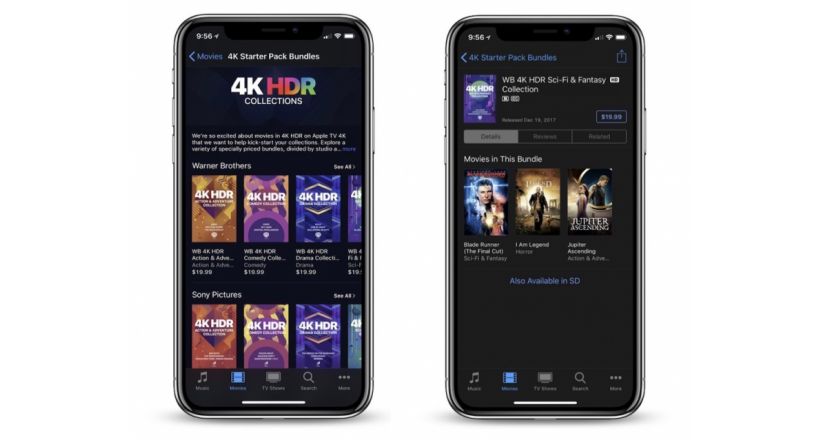 Apple released this week its sale of iTunes Movies, with the focus on the packages of movies 4K HDR. The packages are divided by studies and subidivididos by genre: action and adventure, comedy, drama, and science fiction and fantasy.
Almost all packages have a price of $ 19.99 for three films, and there are some with a price of 22.99 and 24.99 dollars, depending on the study.
Within the movies included in this promotion the following may be mentioned: the Studio Warner Brothers in Action and Adventure, for $ 19.99 includes The Accountant, the Argo, Into the Storm. Sony Pictures Comedy for $ 19.99, includes Ghostbusters (1984), Rough Night, a Sausage Party. 20th Century Fox in the category Drama for 24.99 dollars: Life of Pi, The Martian and The Revenant. Of Universal Studios in the category of Science Fiction and Fantasy, for 24.99 dollars includes Warcraft, Snow White and the Huntsman and King Kong.
Photo by Sergey Zolkin from UnsplashWell, Xf...

What is Inat Tv Pro?Inat Tv Pro APK for Andr...

The cryptocurrency market has exploded in po...
With these promotions Apple seeks to offer its customers collections of the new content 4K HDR. On the other side deals iTunes Movies are in the frequent time of the year-end holidays. To buy the collections in the promotion you must access iTunes Movies in macOS or iOS.
Apple launches the Sale of iTunes with packages of three 4K movies HDR for $ 19.99