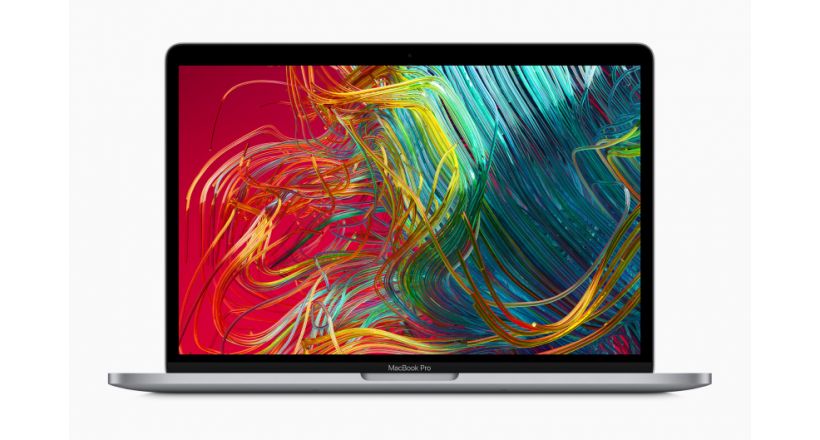 Apple today announced the launch of the updated MacBook Pro 13″ with the new keyboard, Magic Keyboard, double the storage and graphics performance faster. The new line features processors 10th Gen with graphics performance up to 80% faster and up to 16GB of memory 3733Mhz. Features quad-core processors, display Retina 13″ Touch Bar and Touch ID, stereo speakers, battery life throughout the day, and a starting price of 1299 dollars.
The team maintains the design of the MacBook with aluminum casing in Space Gray or Silver and has a weight of about 1.360 grams, a highly portable. Account in addition with the new Magic Keyboard, with mechanism of scissor and 1mm of travel, along with Touch Bar and Touch ID.
The new MacBook Pro 13″ has twice the storage than the previous generation, starting with 256GB up to 1TB, and may extend up to 4TB SSD. Also have Intel Core processors 10th Gen quad-core speeds with Turbo Boost up to 4.1 GHz, which means an increase in the speed of performance of up to 2.8 times. Account in addition with plate graphics Iris Plus Graphics, with a performance up to 80% faster, ideal for editing 4K video, making renders, or use games; also allowing you to connect the computer to the display Pro Display XDR-resolution 6K.
With regard to memory, 16GB of 3733MHz are now included in the settings of selected models, and you can expand up to 32GB
The display Retina 13″ features over 4 million pixels and millions of colors, brightness of 500 nits, and support of range color wide P3. Uses technology True Tone to achieve an experience of more natural vision when doing design or editing. The new MacBook Pro 13″ also has stereo speakers that deliver a sound experience of immersion. The Touch ID makes online shopping safe, secure, and with Touch Bar can be used to control multiple variables in a dynamic way.
The new computer has the security chip Apple T2 Security Chip, that reviews the software that is loaded when starting the computer to avoid that have been tampered with and provides encryption for all data stored in SSD. The chip also protects the information of Touch ID.
The new MacBook Pro has a starting price of 1299 dollars and already available for order on the Apple Web site or through the Apple app. Shipments will begin towards the end of the week.
Apple updates MacBook Pro 13″ with Magic Keyboard and better performance
Source: english
May 7, 2020