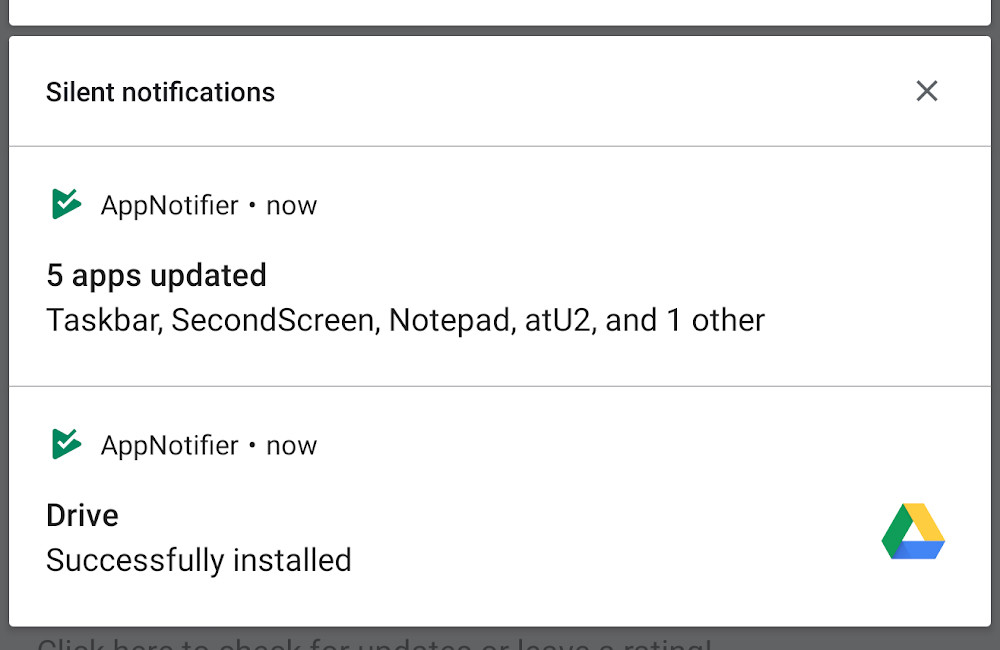 last week Google confirmed that the Play Store had stopped displaying the notification of the updated applications, and that it was no fault but that it was a new feature.
well, if you are one of those people who liked this notification is to discover how many apps had been updated then we have good news. Braden Farmer, a senior member of XDA Developers has created in less than a week his solution to retrieve notifications missing from Google Play.
How to retrieve notifications of updated applications
AppNotifier is the application that we will now have to have installed in our mobile device to retrieve the notification that the Play Store has removed. We will see how many and which applications have been updated recently on our Android. All under the same design and behavior that I had in Google Play. When clicking on the notification opens the Play Store to display the recent updates.
The application does not have a lot of mystery. It allows us to activate the notifications when new applications are installed and the notification of updated applications. By default it will display only the applications downloaded and installed from the Google Play Store but offers the option to receive notifications with the apps installed and updated from any source, that is to say, from unknown sources.
The developer reports that its app does not detect when applications are in the middle of an installation, so there will be a small lag from when the application is installed and displays the notification. It also reports that the notification will show the name of the app in our device and not the name on the tab of Google Play, it is sometimes different. Another detail is that it will block a notification that informs us that AppNotifier is running in the background. The same notice informs us of what there is to do.
AppNotifier
Via | XDA-Developers
–
The news AppNotifier: an application that retrieves the notifications that it stopped displaying the Play Store was originally published in Xataka Android by Cosmos .

Xataka Android
AppNotifier: an application that retrieves the notifications that it stopped displaying the Play Store
Source: english
January 21, 2020