The last October a Portuguese court ruled that Google he should stop marking it as unsafe and delete it automatically mobile Android. A campaign of Aptoide under the motto "play fair" says that Google continues to set store alternative as unsafe.
the impact of The blockade and removal of Aptoide at the hands of Play Protect it is lethal to the store alternative. According to its CEO Paulo Trezentos, the numbers of active users annually has fallen from 222 million in 2018 to 56 million in the past month of may.
Google puts obstacles to Aptoide
The campaign of Aptoide, which leads to fights with Google for topics related to from 2014 account with own web site in which is explained the position of the company. In the trasfrondo is the freedom of users to choose the app store of choice, though the biggest point of friction is located at the detection of Aptoide as an app to be malicious on the part of Google Play, Protect.
Aptoide argues that Google is still detecting Aptoide as an app to be malicious, which on the other hand does not seem to happen in every case, because in our tests, this has not been the case. When this happens, Google gives you two options: you can keep or uninstall.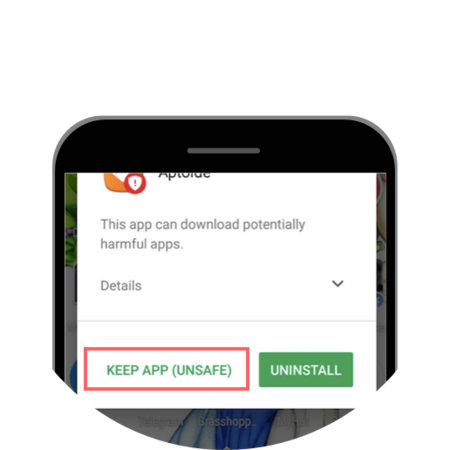 The problem is that, even if you choose to keep it, you will not be able to install apps from it unless you go manually to the settings of Google Play to Protect (in Play Store) and deactivate the complete analysis of the Google Play Protect, exposing your mobile to other threats.
Aptoide claims that its application is safe, according to the study from a japanese university and Virus Total (interestingly, owned by Google), even though the problem here is not so much the app itself, but the apps available in the store.
The controversy is served, but for the CEO of Aptoide is clear that Google is using its control over the operating system to block competition, something that hurts both the users -they have fewer options – such as developers, who are constrained to deal 30% of their profit with Google to use its store, compared to 10% of Aptoide.
it Seems that this drama is far from resolved. Between the demands of Aptoide is found, first, that the app stop you from falling victim to Play Protect and, second, that users and developers is can choose your favorite store in Android.
Via | TechCrunch
we Also recommend
"Google Play Protect is a very aggressive": Aptoide returns to sue Google to the European Commission
Why Google is starting to mark their apps with DRM and how it will affect
Ten years of the Android Market, now Google Play: we reviewed the ten most important changes in its history
–
The news Aptoide claims that Google "play fair": they ask you to leave you mark your app store alternative as unsafe was originally published in Xataka Android by Ivan Ramirez .

Xataka Android
Aptoide claims that Google "play fair": they ask you to leave you mark your app store alternative as unsafe
Source: english
June 4, 2019