After filtering on several occasions that Ash Williams could join the template of Mortal Kombat 11, the rumor has been almost confirmed by an error in the communication of the company.
over the past year occurred several leaks suggesting that Ash Williams, character in Ash vs. Evil Dead, it would appear in Mortal Kombat 11 as a fighter playable. However these pieces of information lost weight as the template, the fighting game was going to expand without Ash came to join her. Until now.
apparently Warner Bros. Games has made a small slip-up and has become to leave out that Ash Williams will join the set of Mortal Kombat 11 once and for all. This information comes from a new e-mail to the responsible of communication of Mortal Kombat 11 have sent to the press announcing the addition of several new characters and, without wanting to, have forgotten to remove a detail that would indicate the imminent arrival of Ash Williams in Mortal Kombat 11.
Ummm did Warner Bros just leak Ash from the Evil Dead in their Spawn e-mail campaign? Read the footer. LOL! pic.twitter.com/TcLZDQyJPz— Taco (@TacoFGC) March 25, 2020
While in the email there is no direct reference to a next embodiment of the protagonist of Ash vs. Evil Dead the roster of Mortal Kombat 11, in the skirt of the message there is a small detail that serves as the filtration error: if you take a look at the image posted by the user @TacoFGC on Twitter we will see as the press officers of Warner Bros. Games have been stopped a disclaimer legal pointing out who owns the copyright of Ash Williams.
A strange error that might confirm an upcoming announcement
Video: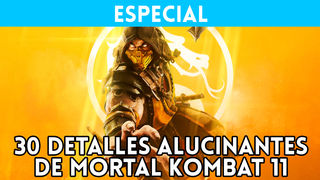 it Is quite strange that there is this type of legal notice for a character that is not within the universe of Mortal Kombat 11 and that does not even appear in the last communication of the new characters in the game. That is why the reflections indicate that what is hidden behind this "slip" is a upcoming announcement of Ash Williams for Mortal Kombat 11; by using imagination we could even think that this novelty could be one of the Warner Bros. Games intended to make public in its first conference of E3 2020 before they cancelled the event.
Ash Williams resumes for Mortal Kombat 11 by a slip of Warner Bros. Games
Source: english
March 25, 2020