Ubisoft gave the game after the fire of Notre-Dame, which is the most emblematic building of the adventure of 2014.
a little over a week, Notre-Dame suffered an unfortunate fire that damaged part of its architecture-the roof and the spire of Viollet-le-Duc has collapsed-. The French company Ubisoft then announced that I would donate 500,000 euros to the reconstruction and as a tribute to a present for a week Assassin's Creed Unity PC, the game of the saga that takes place in Paris and which has Notre Dame as one of the most emblematic parts of your map.
Now Hollywoodreporter reported that, during the period of this gift -which concluded yesterday- Unity it was downloaded or added to your account Uplay for three million people. The players appreciated the gesture voting positively Unity Steam.
Video: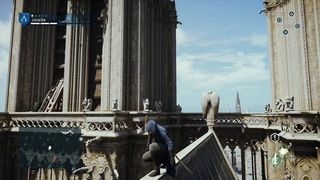 Unity includes a faithful recreation of the monument. The artist Caroline Miousse spent over two years capturing every corner of the building, something that some in the media speculated that could serve in the reconstruction thanks to the amount of photographs taken during the development.
Assassin's Creed Unity: 3 million downloads in the last week
Source: english
April 26, 2019