This remastering comes on the 29th of November.
Meridiem Games has shown the launch trailer of Asterix & Obelix XXL2, which is released on the 29th of November consoles and PC.
"The irreducible Asterix and Obelix are back in the remastering of a unique adventure, 13 years after its launch. Whether you're a fan of the gauls as if you approach for the first time in the franchise, Asterix and Obelix will not disappoint. Your adventure is accessible to all types of audiences regardless of their age or ability at the controls thanks to their 3 levels of difficulty," says the distributor.
This adventure takes place in Las Vegum, a theme park with areas such as Lutecia, Venice, Luxor, and the Pirate Island.
Video: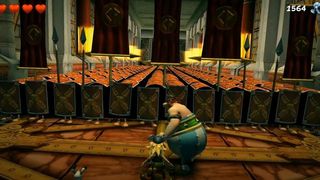 In the console you will be able to get in two special editions. Limited Edition includes 3 figures and will be available for Xbox One, Nintendo Switch and Playstation 4, while the Collector's Edition is an exclusive edition of the GAME to Switch, and Playstation 4 that includes two lithographs, a t-shirt size child and a figurine of Asterix 15 cm.
Asterix & Obelix XXL 2 shows its launch trailer
Source: english
November 27, 2018