20 MINUTES.IS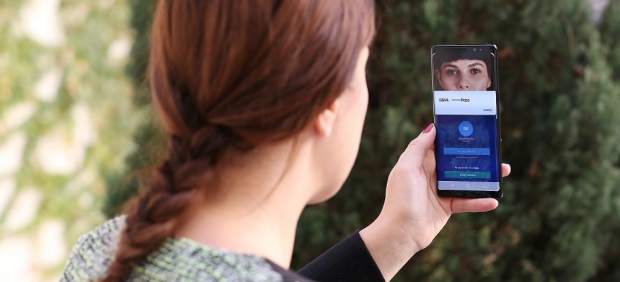 The explosive emergence of internet services, applications, social networks… have induced the whole world to the use of passwords that are increasingly complex, something that is not always conducive to the existence citizen connected.
this is why BBVA has become the first Spanish bank that allows you to access your mobile banking application using the iris recognition to customers that have a mobile Samsung compatible.
This new service is possible thanks to the technology of biometric authentication Samsung Pass, which verifies the identity of the user to the app BBVA will allow access to their accounts, ensuring the maximum safety and avoiding the need to remember complicated passwords.
To use this technology, it is only necessary to configure the iris in the terminal, and then click Profile and Settings within the application of BBVA. Also, the client of BBVA will need to have downloaded the last version of the app that will be available in Google Play.
"With the integration of Samsung's Pass guarantee that BBVA makes available to its clients the best mobile protection at the time, which eliminates the need to remember all the passwords that we accumulate in our digital life," said David Alonso, director of the Area of Business of Samsung.
Raul Navarrete is responsible for Mobile Channel of BBVA Spain, and highlights that the goal is that the clients "have an experience of easy and quick navigation, and the iris recognition not only allows a convenient and agile to the 'app', but offers an unmatched level of cyber security."
in order To incorporate this system, BBVA and Samsung have rushed a major project of technological collaboration that will allow other solutions in the future, as well as the signature at a distance when the customer hires a product.
BBVA continues working to improve the digital experience of their customers through their app, which has been recognized as the best of mobile banking services in the world by the international consultancy firm Forrester Research.
A safe method
The recognition through the iris is one of the methods of biometric authentication more secure. Credentials biometric is stored on the device by using the security platform Samsung Knox, which stores this information in the TrustZone of the device, a secure area based on the hardware of the terminal.
this way, it is impossible, in addition, the theft of biometric identity through the terminal. As Samsung monitors the real-time device is able to detect if there is any vulnerability, and if so, the access to the credentials biometric is unable to serve.
Samsung Pass also allows the authentication by using fingerprint and is based on the technology FIDO (Fast Identity Online).
BBVA is the first Spanish bank to allow access through the iris, thanks to Samsung Pass
Source: english
November 27, 2017