This weekend starts Football League in Spain and with it begin Comunio competitions (y their) plays in many groups of friends. Private leagues where each record the best equipment you can and pray that the players who have hired virtually give their best every weekend and score higher. In Spain, at least, the rage and is the reference Comunio though, many want to give the competition.
Among them BeSoccer Manager who wants to become this year's main alternative to Comunio Android. A resultona application that allows us to create our team, private leagues and compete with our friends or coworkers to see who has the best eye talent hunting
.
A well designed manager with links to several countries
BeSoccer has understood philosophy of fantasy leagues and brings a very intuitive and easy to use. After creating us a bill, we have the option to create our private league or join one that already is done. Once we entered one, just we have to be the team with the budget we have. There are three difficulty levels: 100, 150 and 200 million to sign players
As in Comunio, the stars are the ones that cost money and the fun of the game is to rummaging through talent. teams second line and find players that cost little but every week join many points. A difficult task where football knowledge to appreciate people.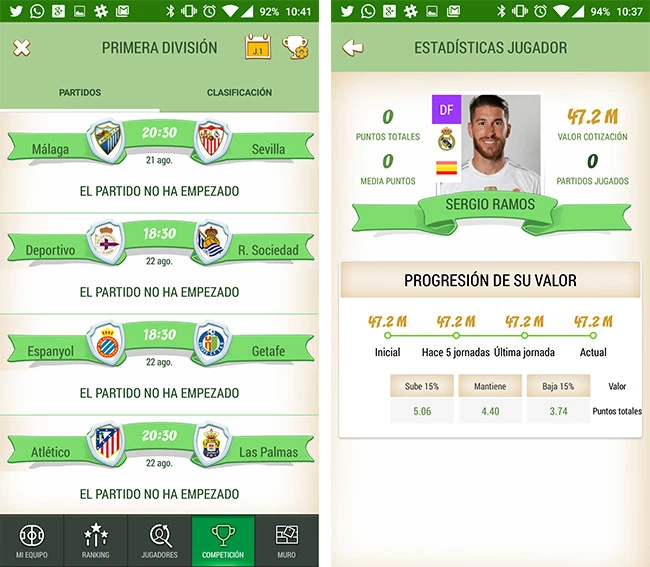 The game interface is very visual as you can see in the screenshots, nothing leaves a lot of data but records and relevant data always at hand. Manage leagues and teams is very easy and as we took a bit of time playing it is easy to do with the efforts of changes, transfers, etc.
BeSoccer has everything to be a perfect alternative to Comunio Android. It remains that users are encouraged to take the leap.
A point in favor of BeSoccer we can create teams leagues in various countries. Today is only available as Spain and England but also available BeSoccer the Bundleliga and French Ligue 1 among others. The application is free, does not include payments, and all you need is a checking account email.
BeSoccer Manager
Sports
Price: Free
Developer: Football Results
Download: Google Play
–
News BeSoccer a football manager for Android that wants to be the alternative to Comunio was originally published in Engadget Android by Juan Carlos Gonzalez.
Engadget Android
Bibliography ►
Phoneia.com (August 22, 2015). BeSoccer a football manager for Android that wants to be the alternative to Comunio. Recovered from https://phoneia.com/en/besoccer-a-football-manager-for-android-that-wants-to-be-the-alternative-to-comunio/