YOLANDA MARIN
Titles like 'Carol', 'The Danish Girl' or 'About Ray' are some of the major outstanding premiere productions that take this subject to celluloid.
LGBT members believe that far from being a fad, these films serve a social commitment and help give visibility.
Two enamored women in the 50 or the first transsexual who underwent a sex change are part of the frames that this season will be.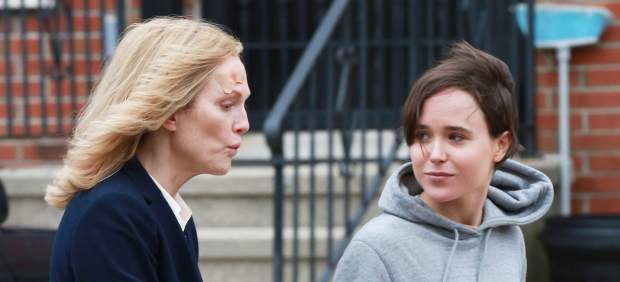 Fashion or social commitment? The target="_blank"> as hurricane season arrives on the big screen through stories, mostly inspired by real events, of gays, lesbians and transsexuals that many filmmakers have taken the closet .
As in series television this fall and winter billboard strongly suggests that gender makes visible the skin LGBT actors and actresses as powerful as Eddie Redmayne Cate Blanchett, Julianne Moore and Naomi Watts.
Two women fall madly in love in New York 50 , l a first known transsexual who underwent a sex change or Two lesbians fighting for equal rights are some of the frames you can discover in this new film course.
href="https://twitter.com/vissibles" Assiego" title="Twitter Violeta Violeta Assiego , LGBT activist, social researcher and author of blog 1 in 10 , believes this boom movie " responds to a social commitment more than a fad," a marked change from what "is happening in the United States of Hand gay friendly policy of US President Barack Obama ".
Assiego understands that normalization of gay marriage in the North American country " has given explicit permission for producing take out of the closet" these films.
"The LGBT subject is entering the political agenda, is another stage and film shown this is the absolute tolerance for human rights, A time very consistent with what exists in other disciplines and in sport, "says the social researcher.
" It is no longer an eccentric or marginal cinema "
Also as a spectator of LGBT, Violeta Assiego considers that some of the tapes that will debut this season as Carol , The Danish Girl or About Ray , responding to a normalizing situations occurs in all families and countries. "It is not an eccentric or marginal cinema, where stories were told very stormy. Bring quality and visibility, with the ability to reach many more viewers," he qualifies.
But not only helps normalize realities, This social commitment in the film world favors "that people who are in the closet can be proud of who they are," he said.
Paco Thomas , writer and host of Wisteria Lane , Radio 5 -the only LGBT publicly broadcasting the program believes that the change in the film industry LGBT is given by the treatment of gay characters. "From the 40 films where the homosexual was ridiculed done , while 50 were tortured, never a gay or lesbian character was happy. Or the same tortured characters so that is just committing suicide. And then comes the 80 AIDS with homosexual characters as protagonists, "he says.
Thomas stands at 90 a decade in which stories appear to conflict with gay characters Similar to heterosexuals, but understands that the problems must continue exposing "films arriving now have much real content and problems is going to make visible , but with a different attitude"
.
Many premieres, but "they are still insufficient"
The host Wisteria Lane thinks precisely what does not help equality is invisibility, "and if they come from a large study or the general public or to be Oscar nomination, if it attracts more people ."
Despite numerous releases this genre that are foreseen for 2015 and 2016, Thomas believes that are still insufficient: "Maybe this year there are six lesbian or gay characters and last year there was one. There is so much visibility, so it is still necessary ".
However, there are many films with gay characters, gay or transgender are lost because they do not find distribution. Therefore Thomas considered need to follow having festivals as the specialized film festival title="Festival gay" href="http://www.lesgaicinemad.com/" LesGaiCineMad, which will take place October 30 to November 13 in Madrid.
The premieres ahead
Carol . With a host Cannes Festival, this film starring Cate Blanchett and Rooney Mara, directed by Todd Haynes (Far From Heaven) tells the story of two women who fall in love in New York of the 50s One You feel guilty about being attracted to someone of the same sex and consent to treatment that supposedly cure his homosexuality . The film, which will hit US theaters on November 25 and in Spain does not have release date in Spain is based on a novel by Patricia Highsmith.
The Danish girl. In January 2016 is set to hit the screens this Spanish drama tells the true story of Gerda and his wife Lili Elbe , the first transsexual known who underwent an operation surgical sex change. This English production is directed by

Tom

F

OOPER

and is based on the novel by David Ebershoff. Elbe is played by the Oscar-winning actor Eddie Redmayne, who could repeat nomination for this role. At the Venice Film Festival, where the premiere took place, The film has received a great ovation and the prize has been

Queer Lion
Freeheld . Other drama inspired by a true story and set to hit theaters in October 2015 and Spain in January 2016 is Freeheld , inspired by a short of the same name achieved an Oscar in 2007. Julianne Moore and Ellen Page interpret two lesbian fighting for their rights after one of them being a victim of cancer. The film is directed by

Peter Sollett.

About Ray

. With two front row actresses such as veteran Susan Sarandon and Naomi Watts , this film under the direction of

Gaby Dellal

promises to be one of the hottest releases of the season. Straddling the family drama and comedy, Sarandon and Watt enliven the grandmother and mother, respectively, of a transgender teen played by Ellen Fanning, known for her role as princess of Maleficent . in the United States can be seen on September 18 and in Spain hit theaters on October 30.
Stonewall . Under the direction of Roland Emerich ( Independence Day , Godzilla or The Patriot) , comes this film, scheduled for release on 25 September 2015 in the US (in Spain still to be defined), which has the revolts that led to the Gay Pride Day through the story of a young man thrown out of her parents home. The name of the movie is due to the gay bar Stonewall Inn ?? ?? located in the Greenwich Village neighborhood of New York and was frequented by gays and drag queens.



¿'Boom' LGBT film? Lesbian and transgender stories dominate the box office this fall
Source: english
September 14, 2015