All of the events planned for the first month of the game.
Bungie has announced the calendar of events prescribed for the first month of Destiny 2, which you can see summarized in the following image: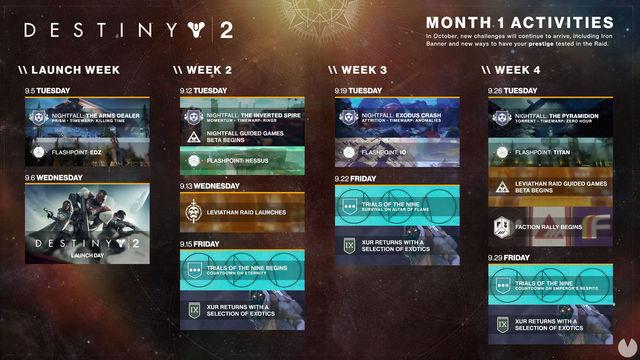 In the picture we can see the events that recibirá the game during this month of September, week-to-week. keep in mind that the date format is not the usual in Spain, so that first it indicates the month (9) and then the day will be available each event.
As we can see in the image, the first events are already underway and have been met with the launch, this week, the video game. The next batch of news will come on Tuesday, September 12, with Flashpoint: Nessus and Nightfall: The Inverted Spire. The next day, on Wednesday, the 13th of September, players will have the debut of the Leviathan Raid and the week closes with the release of Trials of the Nine and the return of Xur from the 15 of September.
Video: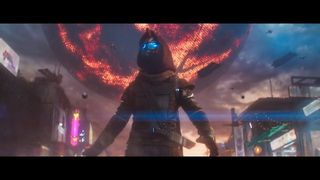 The third week there will be events Flashpoint: IO and Nightfall: Exodus Crash from Tuesday, September 19. Friday, September 22, will receive more goods to Xur and multiple developments for the Trials of the Nine.
In the fourth week the players will enjoy Flashpoint: Titan and Nightfall: The Pyramidion from the Tuesday, September 26. That same day will begin Faction Rally and the trial version of games, guided Leviathan Raid. The month closes with the update of the September 29, that will bring you more news of the hand of Xur and new surprises for Trials of the Nine.
Bungie details the September calendar for Destiny 2
Source: english
September 9, 2017