David Vonderhaar, the veteran designer, has been commissioned to confirm that these accessories will not be present in the title that continue the saga.
The players who are not especially fans of the jetpacks are out of luck: the next installment of the saga of action Call of Duty dispense with these accessories. This has been confirmed emphatically by David Vonderhaar, veteran designer of the property of Activision. While it has not shared the details of the upcoming title, one thing is clear after reading your words: no jetpacks.
Video:
Photo by Sergey Zolkin from UnsplashWell, Xf...

What is Inat Tv Pro?Inat Tv Pro APK for Andr...

The cryptocurrency market has exploded in po...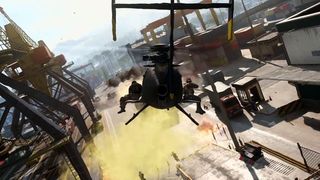 Vonderhaar don't want jetpacks
The design director of Treyarch since 2004, is denied in resounding to include jetpacks in the next installment of Call of Duty. Did you know on your Twitter account after the player is told to reintroduce them in the next installment. "NOT", answered deliberately, Vonderhaar. Then, another pointed out that the jetpacks were commissioned to "revive" Call of Duty: "you Have a very short memory", said Vonderhaar. "I colgasteis of the highest branch. No. NO. I have post-traumatic stress disorder".
Such short-term memories. You hung me from the highest branch. No. NO. I have PTSD.— David "Vahn" Vonderhaar (@DavidVonderhaar) January 5, 2020
This equipment, which was introduced in Call of Duty: Black Ops III, it is also used in Call of Duty: Infinite Warfare. It was then sprang up between the players, a motion of complaint, which is summed up in the expression boots on the ground (boots on ground). With their complaints, the players wanted the characters do not return to able to rise in the air to fight. So Vonderhaar, after having heard the complaints, will not include the jetpacks in Call of Duty. At least, not in the next installment.
The following Call of Duty
on the other hand, Vonderhaar has not advance any kind of information about the upcoming game Call of Duty. It appears that the development of the title would be undergoing certain complications in Sledgehammer Games and Raven Soft, the two studios working on the project. As reported by Kotaku, they asked Treyarch to intervene in this situation to comply with the deadlines and that the game is released in 2020, so that it is not clear whether the words of Vonderhaar refer in particular to this game or the next one that it will make Treyarch.
Call of Duty: The next game will say 'good-bye' to the jetpacks