DANIEL G. Aparicio
On December 25 'Carlitos and Snoopy opens. The film Peanuts'.
The director Steve Martino, explained to '20minutes' which has sought to attract new generations, but without betraying the classic spirit of the characters.
The experiences of Charlie and Snoopy, who have reached 65 years, keep a light tone and a leisurely pace far from usual in the current animation.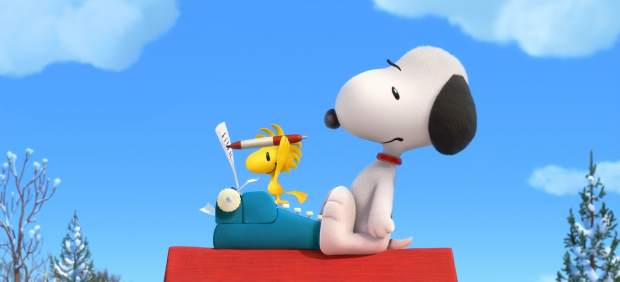 Before the boom of the graphic novel, before the expansion of the magician and anime, comics before reaching the masses and long before computer animation, the artists had their great bastion in comic strips in newspapers . There Popeye, Garfield, incisive Mafalda, the beloved Calvin and Hobbes was born. In this world they were born too, and 65 years hand and imagination of Charles Schulz ago, the small Charlie Brown and its charismatic dog Snoopy .
This peculiar beagle, which marked the childhood and youth of several generations, now faces the XXI century in search of new fans, children accustomed to frantic animation films will find in Charlie and Snoopy. Peanuts film , which opens on December 25, a style and pace far removed than usual today.
In order to taste small today but disappoint those who grew up with Snoopy, Steve Martino, the director of the film ( Horton , Ice Age 4: Continental Drift ) has chosen to mix tradition with more elements of these times, even in the art section, where characters and modeling environments used in 3D lines drawn in 2D , like the faces of the characters.
"When I started working in the film, with the working table Schulz Museum Charles M. Schulz, I saw a video of him drawing the characters. There was something magical about the way put the pencil on the paper, and I wanted to have that mix: his strokes ?? like Charlie Brown's smile ?? attached to the richness and detail we can achieve with computer animation . Putting these two together, we end up creating a style completely different from any other film animation, "Martino explained 20minutes .
The pace is much slower than the Most current animation films. It does not reach the slowness of special films for television that were made in the 60s and 70s, but retains much of the spirit of those, from the peculiar character movement (when walking, when dance, when they yell …) to voice of adults , which is nothing but noise trumpet. He even made an effort to recover the original voice of Snoopy.
Also the story and tone seems to come from another era. Here children do not play on the console or have a mobile phone. His hobbies pass by flying kites, playing baseball and ice skating. "It's a story that there is a villain and where the world is again threatened with destruction. This is a great stage for Charlie and Snoopy direct action. Nor should children hooked on digital devices. That would be boring from the point of view of animation, "says the director.
" The heart and soul of the movie theme. We see Charlie Brown in a way with which we can all identify. it is an inspiration , a boy struggling to get what he wants. He decides to be a winner: trying to change, trying to be different, trying to win a medal, some tangible evidence that he is a winner. But in the end, what matters is not the triumph but its virtues: it is generous, friendly, is constant, never gives up. For me that is the most wonderful message, "Martino added.
Snoopy and his friends
Charlie is the centerpiece of the film, just as it used to be in comic and in television specials, but his universe consists of many other characters. The second most important ?? ?? but first in popularity is the Snoopy own, a dreamy dog ​​ who likes to imagine it a great driver of the First World War, a writer or a musician.
"Snoopy needs to venture into the fantastic world to survive. Otherwise, take a dull, miserable life. I envy dogs the kind of life they have to take, "had its creator, Charles Schulz in an interview in 1997, three years before his death.
Although at first it was like a dog of truth, who walked on all fours and was completely silent, soon became humanized began to walk on two legs and to communicate their thoughts to the reader, in addition to understand everything they said human in 1968. , Snoopy became the official mascot of NASA. A little over a month ago, the character received a star on the Hollywood Walk of Fame.
The inseparable companion of Snoopy is Woodstock . , a yellow bird that communicates in a way that can be understood only
The other important characters are Charlie Brown's friends: the manipulative Lucy, Linus and the peaceful blanket , little Sally Brown, Marcia comprehensive, music lovers and piano Schroeder and athlete and something "tomboy" Paty Freckles , a character that Schulz introduced in the mid-70s and at that time was a rarity. The fact of introducing girls who play sports in the same team as the guys in nearly a decade ahead of its time.
A few years later, in 1968, Schulz into his comic strip to first black character , Franklin, classmate and Freckles team Patty and Marcie.
Carlitos and Snoopy are adapted to twenty-first century with a mix of 3D animation and 2D art
Source: english
December 22, 2015