The basic Mode Chrome for Android promises to load web pages faster and reduce data usage by up to 60%. Now has been enhanced with a new feature that prevents load completely the web page.
through the blog Chromium, Google informs you that it has improved saving data of Chrome for Android. Now the browser will consume less data thanks to the automatic lazy loading of images and iframes.
So does the lazy loading
Two versions ago in Chrome 76 added support to the lazy loading native, but was an attribute which the web pages had to activate. Now** from Chrome 77 the burden on deferred will be automatically** in all devices with the basic Mode enabled.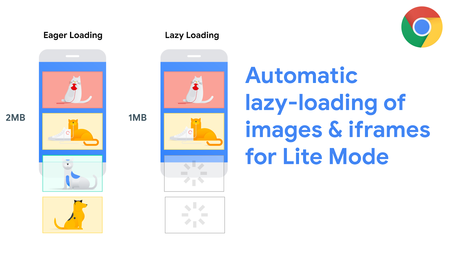 Until now, when you enter a web page it is loaded completely, downloading all of your images, animations, videos or documents but do not appear on the screen at the same time. Now with the basic Mode (data saving) will download the media items on demand as have to be displayed on the screen.
According to tests conducted by Google, the deferred load help reduce your network data usage and the memory usage. The lazy loading native images and iframes reduces approximately 10% of the bytes downloaded per page for the 75% of users and 8% of bytes downloaded for the average user. Also improves by 0.7% on average the use of the memory, and between 1-2 % of median, the first drawn of the web page.
To enjoy this small improvement so we just have to go to Settings > basic Mode and activate this saving of data. The data savings will depend on our type of connection. Google will compress the images and videos through their servers so that we get a reduced version of the web site. If our connection is very slow we will have a much more basic web site.
Google Chrome: fast and secure
Via | Google
we Also recommend
How to save data and battery in EMUI, the personalization layer of the mobile Huawei and Honor
Google deletes Datally, your app to save data, Google Play
Google will allow us to share GIFs from your browser to different applications
–
The news Chrome for Android improves the saving of data with lazy loading was originally published in Xataka Android by Cosmos .

Xataka Android
Chrome for Android improves the saving of data with lazy loading
Source: english
October 24, 2019