The MMO of driving and combat initiated your event Knight Riders with new vehicles, upgrades and special items.
Targem Games has announced that the brawl Battle Royale is back in rotation in Crossout.
Yesterday upheld the arrival of a new update that gives start to the important event Knight Riders, who will be available until the 17th of April and that will bring daily challenges, new objects and multiple developments to the MMO.
The mission to account for the progress of the daily challenges, and by participating in it, the player will receive a temporary remedy special, so-called talers, which you can not sell or buy through the market of the game. Crossout opens with this event the new scanner, which increases the amount of talers that we receive after each battle. Finally, keep in mind that, once the event ends, all the talers that have not been used will be withdrawn from the option exchange by any other resource.
Video: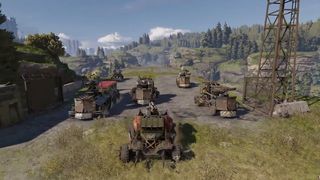 I remember that Crossout is available on both PC and consoles. The game recently received a mode campaign history. We invite you to read our impressions here.
Crossout: The brawl 'Battle Royale' is coming back into rotation
Source: english
April 5, 2019