The mechas landed on the platform after its passage through the console, and Nintendo confirms a special version for computers.
Marvelous Inc and XSEED Games have announced PC version of the video game success of Nintendo Switch Daemon X Machina, a title in which pilotaremos wicks and we will fight with them along the length and width of a post apocalyptic world and futuristic. The game will be out on computers, via Steam, the next February 13. you Can buy it here at a special price of 47,99 € (although the final price is 59,99 euros).
Fighting and war on the back of a mecha
In this action game in third person, we will move on to an apocalyptic world and dying, which strives to survive after the impact of the Moon. In this particular scenario, full of deserts and buildings in ruins, humanity discovers that inside the satellite there is an energy that is corrupting the machines, turning them into beings with lethal and possess the artificial intelligence to make them dangerous weapons, and diabolical. Struggling against these beings, and as drivers of the Arsenal, the wicks of the game, we will have to equip and customize our armor, while fighting the rivals.
Video: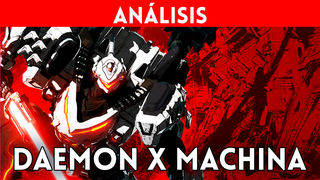 Marked by the style of video games such as Armored Core and Omega Boost, Daemon X Machina was the return to the wicks of some of the great artists of the genre. Told with creative team considered as a dream team within its scope, because it was produced by the responsible for the series Armored Core, Kenichiro Tsukuda, designed by Yusuke Kozaki, known for Fire Emblem and No More Hores and Shoji Kawamori, that took care of the aspect of the robots and the characters involved. For its part Junichi Nakatsuru, he signed the soundtrack while Ryo Hamamoto, one of the fathers of Tekken, he offered his designs of mechanical playable for the title. "Daemon X Machina had in his list a number of characteristics that could turn it not only into a good set of bits, but in a title of the genre able to reach a wider audience. A section of artistic breakthrough, an interesting argument, a customization system wide and, of course, giant robots giving swords to the rhythm of metal", I mentioned analysis from your issue to Switch.
system Requirements PC
Minimum
Requires a processor, and a 64-bit operating system
OS: Windows 8.1/10
Processor: Intel i5-3470 / AMD FX-8300
Memory: 6 GB RAM
Graphics: NVIDIA Geforce GTX 660 / Radeon HD7870
DirectX: Version 11
Storage: 13 GB of available space
Recommended
Requires a processor, and a 64-bit operating system
OS: Windows 8.1/10
Processor: Intel i7-6700 / AMD Ryzen 5 2600
Memory: 8 GB RAM
Graphics: NVIDIA Geforce GTX 1060 / Radeon RX580
DirectX: Version 11
Storage: 13 GB of available space
Daemon X-Machina will come to PC next February 13
Source: english
February 3, 2020