David Cage of Quantic Dream teaches on Twitter with a detailed picture of Connor running in the platform to show the quality of the port that is coming soon to the Epic Games Store.
Quantic Dream announced last march the release of their great dramas, interactive PlayStation, Heavy Rain, Beyond: Two Souls, and Detroit: Become Human on the PC. Through an exclusive one year temporary in the Epic Games Store, the PC players will be able to enjoy some of the best editions of each game, with better graphics and technical changes. While the first two titles, Heavy Rain and Beyond are available, Detroit follow without date. Now David Cage distribute the first official image -or part of it – and announced that soon they will reveal the release date. It will cost 39,90 euros.
Video: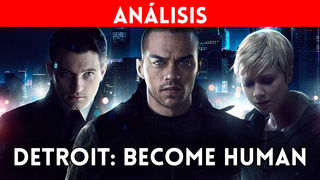 An enhanced version for the PC of a commercial success on PS4
The image shows us the level of detail of the PC version, somewhat higher than that of the edition of PlayStation 4, with a special hard in the pores of the skin, the hair or the finest endings of the face of Connor, the android protagonist of the video game narrative interactivto. In this adventure we moved to the not too distant future in which mankind coexists with androids that are tailored to your desires and requests. Developed specifically in the american city of Detroit, stronghold of the manufacture of these robots-as in its day the motor industry-, soon begin to arise rumors of a rebellion and failures in mass of this type of machines, humanoids, an event that will be giving way to a complex and dramatic science-fiction story starring three characters with different points of view.
First screenshot of Connor on Detroit PC.
We are in the final run to Master.
Official announcement coming soon. pic.twitter.com/1nHrDEt3ay— David Cage (@David__john Cage) November 4, 2019
Quantic Dream decided to embark on the cross-platform development to enhance and diversify their titles
Although it may seem by their character as particular as playable, Detroit: Become Human is a success. The title has sold over 3.2 million copies on the Sony console according to the latest official results. It was the last great game released under the umbrella of Sony, company with the who have had a disagreement commercial, ending the exclusivity with the platform. NetEase, a new inverter of a majority of Quantic Dream, would have enhanced this leap into the cross-platform. "For those who have never played a title from Quantic Dream, this will be a magnificent opportunity to experience the unique nature of our games," explained Guillaume de Fondaumière, director general.
Detroit: Become Human presents the first image of your version in PC
Source: english
November 5, 2019