Is a simulation of farm and crop fields but with the well-known characters of the license Doraemon.
Bandai Namco has shown a new trailer for the asian market, with texts in English, Doraemon Story of Seasons.
The video focuses on the interactions of characters, which can be in several ways. You can find these people every day to improve the relationship, but you may want to offer gifts produced in the garden or with our fisheries. In exchange, we will receive some kind of reward. Once the ties with these characters are strong enough you may return any of the gadgets lost of Doraemon.
Video: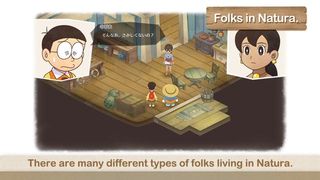 Doraemon Story of Seasons, developed by Marvelous, will Nintendo Switch and PC. In the game, Doraemon, Nobita, and other popular characters of the series will work together to build a farm and a village. Like other titles in the genre, we can grow crops, take care of the cattle and sheep, chatting with the neighbors, and more. The gadgets of Doraemon will also serve to resolve some of the problems that we encounter.
On PC will be available in digital format and Switch, though only in Europe, will be released in physical format, and thave a text in English and neutral Spanish.
Doraemon Story of Seasons shows the interaction between characters with a new trailer
Source: english
July 15, 2019