Lets 'dress' your game with your team colors.
EA Sports has launched an interesting initiative through its official website, which allows users customization your copy of FIFA 15 , "wearing" the cover of the game with team colors.
In the game website, the company offers a choice of all the clubs in the Premier League and can enter any of the 20 download the cover of the game in PDF format, choosing between PS3, PS4, Xbox One, Xbox 360 and PC versions. The user only has to print the file you download, and "disguise" their game with the cover of your favorite team.
Addition, EA also includes funds for iPhone 4, 5, 6 and tablet plus headers for Facebook and Twitter profiles. On the web we can also do the same with the teams in the Premiership, and get off the Irish cover of the game.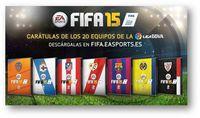 Vandal
EA Sports releases FIFA 15 custom covers of the Liga BBVA
Source: english
September 28, 2014