CARLES RULL
'Toc Toc' is a sexy thriller in the vein of 'Fatal Attraction'
Is Keanu Reeves, Ana de Armas and Lorenza Izzo .
"Our two girls not only reduce the Keanu Reeves character but also shatter the art," Eli Roth moves us.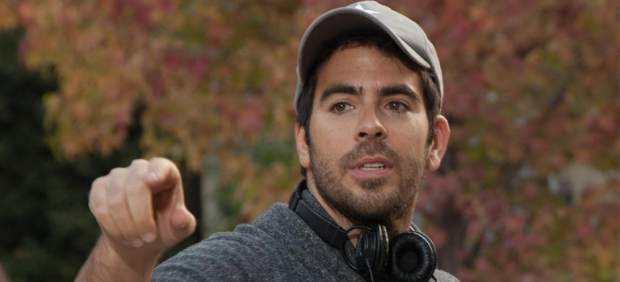 A successful man in his profession, architect, happily married with two children. Until one night opens the door to two strangers, two young sexy and irresistible. And you lost. You are asked to enter a moment to dry your clothes from rain and resume their journey. He is href="http://www.20minutos.es/minuteca/keanu-reeves/" Keanu Reeves, they are interpreted by Ana de Armas Chilean actress and model href="https://es.wikipedia.org/wiki/Lorenza_Izzo" Lorenza Izzo. This is the initial premise of Toc Toc (Knock Knock) thriller, and a sadistic game between cat and mouse, the director linked to fantasy and horror Eli Roth was in the href="http://www.20minutos.es/minuteca/festival-de-sitges/" Sitges Festival presenting his new film. Among us it will surely be released early next year. Eli Roth moves us what Toc Toc , co-produced and co-written with his friend href="http://www.imdb.com/name/nm1240647/" Nicolas Lopez .
'Toc Toc ' virtually no blood and this coming from a film of Eli Roth may sound strange. With 'Hostel' was a champion of so-called porn-torture, can now speak with 'Toc Toc' sexy-torture? Well, just I tell stories. Everyone can use the label you want. I wanted to make a film that was as Fatal Attraction but for a current generation. For example, today social networks are used beyond belief. If someone wants to can destroy life.
Are you interested in more realistic terror or thriller, rather than supernatural? I'm interested about the whole issue of decisions and results they generate. In my previous films it happened to the protagonists came from his home, for whatever reason, travel, sex, adventure; and this time the opposite happens. Is someone who invites strangers to enter, losing control of his life and environment, from the same home.
How did you work with the three top performers so they would have more confidence and to break loose before the cameras? I was fortunate to have an incredible cast and a fantastic team, in collaboration with Nicolas Lopez. All equipment we know, Aftershock , Nicolas Lopez, or Green Inferno , and we felt comfortable. Ana de Armas we met in Los Angeles, he joined Lorenza Izzo and then had a wonderful chemistry. I knew that would be perfect for the characters. And with Keanu Reeves we had a lot of luck. He had heard it was a nice guy who worked with him easily and, frankly, it's a very close person, very friendly and loved the project. At the end we became such good friends that we even laughed at him and we joked., And Keanu us to us. He entered the game. I put it all very easy. A film like this needed a room and a comfortable environment.
Interpreters, or from production, they put a limit to show sex or nudity? going to make a film for a wide audience. There had to be sexual scenes but dark. They are sex scenes, but where there is no love or passion as Basic Instinct Paul Verhoeven. We also looked at how to use the music, like in a Hitchcock film. We shot the first version, but it was too light. Then I went to shoot some scenes with body doubles. . With them we rolled closer shots of breasts and the audience to which the present liked more
In the film you hear more than one sentence and word in Castilian: Chilean music is heard The character of the wife of Keanu Reeves is Barcelona, ​​Gaudí's work has its importance … influences have as co-producer Nicolas Lopez, co-writer and companion? Nicholas was a big influence . It was he who introduced me to the music of Francisca Valenzuela; but we loved the idea of ​​mixing the Latin American culture. There are other elements besides, based on our experiences. Nicolas met a girl who was an air hostess, told us as going through different parts of the world, their sex and from there came the idea that the two protagonists, manipulative and deceitful, were invented they were hostesses.
One of the most famous lines in the movie is when the character of Keanu Reeves talks about having pizza ?? free ?? to justify his adultery. it is a phrase that loves to Nicholas. The free pizza ?? of ?? It is the most famous of the film when Nicolas saying it takes years. Whenever I ask what do you with that you had? He answers was free pizza ?? ??, so shut up.
'Toc Toc' , as you said, this variant gets thriller with infidelity, as 'Fatal Attraction' or 'Harassment' (1994), starring Demi Moore and Michael Douglas. It is also inspired by a film of 1977, "Death Games' , what changes have offered to the original? The starting point is the same, but still other ways, such as that play ?? girls ?? with Keanu Reeves's character. There are also influences from Polanski, film or Jaume Balagueró While you sleep . But someone told us that there were also elements of Vicky Cristina Barcelona (Woody Allen), and now that I think makes sense, it is also a film that we love.
The theme of infidelity is treated more as if it were a nightmare for the average person, but for some sectors believe that they can be accused of being moralists in history? No moralizing of any kind. Just the consequences of a particular behavior is. It's like a nightmare, as if they were removed from the hacking of the website Ashley Madison dating. Everything he does Keanu Reeves's character is his fault. Not happy with your relationship, you leave the Father's Day. When our girls appear and instead of realizing what he has done, what it does is try to ignore. The film shows the consequences. Her character is not able to really address the problem you have at home. And the two girls are like animals, reduce Keanu Reeves and submit. Are animals, even believe that art is crap, there, it's only marble is cement, painting is worthless. They reduce Keanu Reeves and shatter the art.
As for his previous film. 'Green Inferno' has taken two years to reach the United States. It was a legal problem. But the film finally saw the light.
Cine
Eli Roth: "The girls 'Toc Toc' are sexy, but they are like wild animals"
Source: english
October 13, 2015