In June of last year, the popular fashion brand, Emporio Armani launched their first line of watches really smart (that is to say, with an embedded operating system) thanks to the incorporation of the Android Wear 2.0.
Armani has just announced that wide the catalog of their watches smart Emporio Armani Connected that now incorporate the chip specialized Snapdragon Wear2100 of Qualcomm and support for both iOS (9.3 or higher) and Android (5.0 or higher) in a stainless steel case.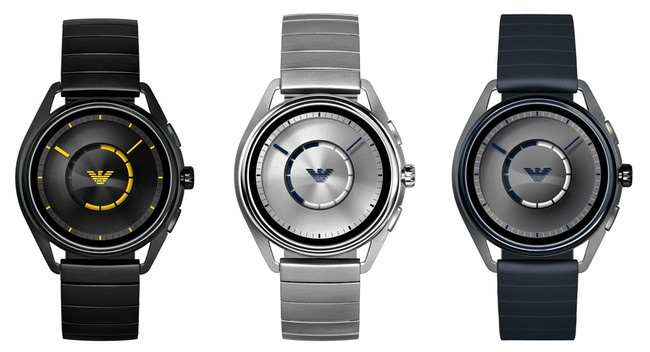 The new devices from Armani come with all the possibilities of Android Wear and other sensors that can approach the most desirable characteristics of this class of wearables. On this occasion, the digital dials have been redesigned and the screen is renewed is a AMOLED 1.19 inches with an ambient sensor that will adjust its brightness according to the needs.
For starters, the new watches smart are water-resistant, so that it is possible to swim with them. They withstand a pressure up to three atmospheres or what is the same: 30 meters depth. In addition, thanks to its compatibility with apps from the Play store it is possible to monitor the swimming exercises that you do with apps specialized.
a new models of Armani come with NFC technology, which will allow to complete a purchase through Google Pay, although not Apple Pay since the latter is exclusive of the watches Apple Watch. Aramani has also decided to incorporate a GPS chip to be able to measure distances and calculate routes without relying on the connection with the phone.
In their new additions to the catalog Emporio Armani Connected these watches arrive with a heart rate monitor that is compatible with the Google Fit or other third-party applications that read device information.
finally, your microphone will be sensitive to any command or question let us turn to the wizard Google Assistant to be able to perform certain actions on the phone by running them directly from the wrist.
Availability of the new Armani Connected
The new watches smart Armani suits are available for pre-order from today, although they will not get to the shops Armani from all over the world, and its selected outlets, until the month of September.
In Xataka Android | Android Wear 2.0, analysis: to conquer our wrist need something more than just a large update
–
The news Emporio Armani presents new watches smart heart rate sensor, NFC and GPS was originally published in Xataka Android by Toni Noguera .

Xataka Android
Emporio Armani presents new watches smart heart rate sensor, NFC, and GPS
Source: english
July 16, 2018