The company shares one of its regular updates of development, informing of the changes and improvements that have been experiencing the portal in the past few months and the to come.
Epic Games Store broke out with a force at the end of last year. The digital store, the biggest rival of the solid that has been found to Steam, has been adding certain features and options that until that date had been promises, and that now they begin to identified. After the changes seen in the portal of sale of video games, confirm new additions that improve the interface and the available options.
Improvements in the ui, the storefront and more changes in the future
"Now there are coupons for the special events of the store,", explains Epic. Now we can access to special coupons specific to trade for video games or for discounts on the same. According to the developer, the responsible of the store, as well as the creators of content, may offer coupons for specific dates in their games, as the 12 days of free games promotion that starts today in the Epic Games Store. In search of a better accessibility, Epic has adjusted the grid view and improvement of the library, so that we can see more games at the same time, with icons most easy-to-carry and with a lower cost in performance.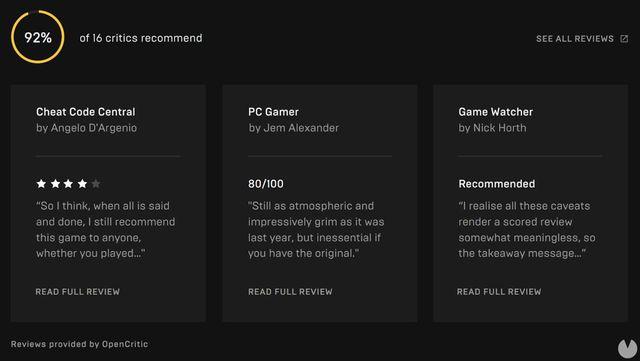 "Basically, this means that the showcase takes less time to load that you can buy, claim and enjoy your games faster", said the responsible. In fact, another of the settings to make it more attractive, the navigation is in relation to the addition of the reviews and criticism, which now have a prominent point in the product pages, and video games, and although it is not at all implemented -report that is in beta format-then expect you to add one factor extra to the experience of browsing in the next few months. But, what happens with the wish list? It is a capital factor and very necessary in a store of video games that, to this day, continues not to be available on the Epic Games Store. At least for the moment.
The expected wish list is still in development, although there have been no confirmed date of arrival
"We are working to add a wish list to the store. You can add any store item to a wish list and you are sent notifications with offers or promotions that affect this article", they confirmed their policy. Although do not dare to give dates, we could find ourselves soon with this functionality, which will allow players to select and save a list of those securities which they desire, or want to acquire, control of the price and its potential or future sales. In any case, it seems that 2020 will continue to be an important year for Epic Games Store, a new actor in the market of the digital stores that seem to benefit the industry and the players.
Epic Games Store announces the changes and the new features of your store
Source: english
December 19, 2019