It includes box-shaped atomic bomb.
Game has announced that it will market exclusive in Spain Fallout Anthology , a collection with all PC installments of the saga that will be launched on October 2 at a price of 49.95 euros as a collector's edition in the form of atomic minipump.
includes href="http://www.vandal.net/juegos/pc/fallout-a-post-nuclear-role-playing-game/27116″ Fallout (1997), Fallout 2 (1998), Fallout Tactics: Brotherhood of Steel (2001), title="Fallout 3 for Fallout 3 (2008) and title="Fallout: New Vegas Fallout: New Vegas <. / a> (2010)
The last two deliveries are included in the complete edition, with all DLC ( Fallout 3: Game of the Year Edition and Fallout New Vegas: Ultimate Edition ), plus this collection comes with games inside a housing shaped atomic mini-pump that emits sounds will have a space to include title="Fallout 4 for Fallout 4 , to be launched in November.
Fallout Anthology and can be booked in stores and on the website of GAME, and warn that the units will be very limited .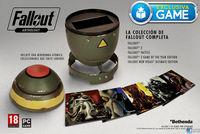 clear='all'/>


Vandal
Fallout Anthology will be exclusive to GAME in Spain
Source: english
July 27, 2015