Numerous competitions and lectures at the venue.
The activity of the Fun & Serious Games Festival the weekend he moved to Congress and Euskalduna Music, where are celebrating different e-sports competitions and various conferences are held. The talks began yesterday morning with "Euskal Invaders: Tips and Tricks to Improve your Videogames." Komair by Tomas, professor of DigiPen
The workshop "Become Partner Youtube " was provided by Maruchi Garcia, Senior YouTube Strategic Partner Manager Spain and Berta Altarriba, community strategist of the company for Spain and Latin America. Garcia explained that YouTube's global audience of one billion viewers; every minute the equivalent of 400 hours of viewing content goes up, which means it would take 65 years to see the material up in a day.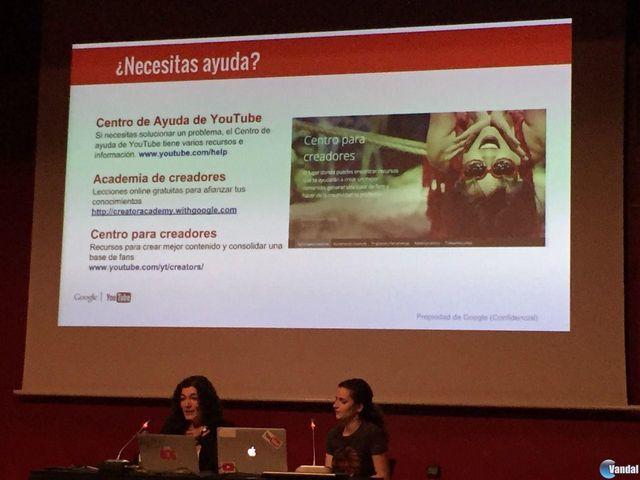 YouTube is present in 70 countries and their videos are in 76 different languages. Such is its reach up to 95% of the population has Internet access. The annual growth of the company is currently estimated at 60%. Much of the content on YouTube is video games, both trailers and reviews, competitions, live performances, let's play and funny moments. community youtubers Spanish has a strong presence, and three-very focused on video games- among the most popular in the world. 20: Vegetta777, Rubius and WilliRex
How to improve a YouTube channel and get money from it
The workshop focused on explaining how to improve a YouTube channel and how money gets to him. According to Garcia, the youtuber must show personality in the channel so that it engages the audience. it helps to choose carefully the design of the channel, header image, develop a trailer that explains the timing and organizing content into playlists.
Once the channel is optimized, you can earn money by checking the user panel monetization, which active advertising in each video. In addition to ads, the youtubers receive money from the brands they reach sponsorship deals, participating in events and direct, with merchandising and microfinance.
There are different tools that the youtuber can be used. It is essential to YouTube Analytics, which records to detail on each video display, so that they can know what each user has a channel: at what point has been a video what videos are generating subscribers, displays that had the part, from whence comes each subscriber, sex, age …
Altarriba exposed various ways to grow a Youtube channel as the creator of the channel should set the character that will create to be different from what is already there and show your personality, the thumbnails are chosen keeping in mind that they'll look at small and must enter through the eyes, or you have to choose carefully the title of each piece to appear in searches and, at the same time, the attention of the user.
addition, the youtuber is interested in the characteristics of your audience, know what the latest trends are a schedule of content-for the continuous generation of content and loyalty of users-promote your content on social networks. And Altarriba said, should interact with your subscribers, mention to listen and to have the information enabling it to decide what works and what does not and why the audience feels like part of the project , almost like a friend's each video comments would foster that contact with livestream can even chat with the audience.
YouTube offers its partners various aids for get more subscribers and better content: on the same page there is help available and in Europe there are Three centers for partners with more than 10,000 subscribers in which they are taught, by example, to handle video editing software.
How to interact with the game player's mind
The afternoon session began with the talk "Put yourself in the mind of the player!" by Emiliano Villegas Labrador and Eve, Grade Multimedia mention video games and Multimedia Master of Lasalle center of Barcelona (Ramon Llull University). Both talked about how video games can be used to learn more easily because they involve fun and how serious games can be used to install fistioterapia or habits in an entertaining and enjoyable way.
Diego Bezares, U-Tad professor, spoke about how virtual reality (VR) "hacks" sense by the presence, which is a " psychological phenomenon in which the subconscious is convinced that the virtual world they perceive is real. " According Bezares, "that's not something you get with a 2D screen," acknowledged
Bezares is a technology that is beginning, but we decided that each year more comfortable hardware, with better quality and more cheap, so that in five or ten years, virtual reality devices will be prominently altered our daily lives.
The spearhead of this technology, Bezares said, are video games, though necessary find the game more suited to devices RV, as it is unlikely to serve simply move to new hardware which already exist for other platforms, "although at first what we will be porting" he added
addition to games, the RV has multiple applications in movies and TV, education, arquiterctura, simulation, tourism, health, e-commerce, journalism, publishing, broadcasting, e-sports ( so that the viewer sees exactly the same as the player sees the game), to adult content and amusement parks that combine virtual reality with a physical space that fits into what the user is seeing glasses.
The comic had a section involving Alvaro Martínez Bueno, draftsman of the Batman series of DC Eternal, who had his career since he was a child fascinated by the comics up to work in one of the most important characters of the comic world.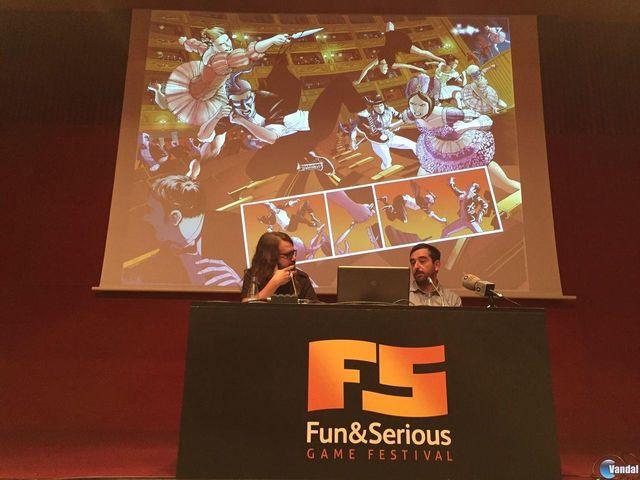 For years was sending sketches, first Marvel and then David Macho, your current agent, until in 2013, the same day that turned a room of almost decided to abandon his career Comic an email in which he proposed to take part in "Ultimate X-men" arrived. Since then, his career was up. He went from Marvel to DC to take over one of the series of Batman
Martinez told the creative process. The writer happens to the (more or less detailed, depending on the writer) on each page He makes a sketch goes for approval-based on the character-style book, then perform a more detailed sketch, print design has done digitally in clear blue ink and printing done that pencil final work, which then passes an inking and coloring the final phase.
Thanks to that hard work, Martinez acknowledges that when more is learned about their profession.
"Man + Video", a documentary about gender differences in video games
closed the day at Fun Zone Academy broadcast the documentary "Men + game" Navy Loves. In July Amores he premiered " Women + game "in which different women interviewed to highlight gender differences that exist in the world of video games in both the development and consumption or competition. The reactions were of all kinds, "mostly positive," said Amores, while recognizing that there were many very angry reactions asking something for men.
Amores has followed these requests and raised to different people (developers, press and writers among others) questions in this case women often done or express criticism is usually done to gamers, including "do you ever have muted micro so you know you're not man? "," You play to impress a woman? "," what's it like being a woman in vidoejuegos? " or "Have you ever been told you are where you are for making sexual favors to your boss."
Among those interviewed are varied reactions. Some feel confused, others laugh, others come into play and react as they would a male minority in a thought for the women sector. The result is a powerful wake-up call about the differences genre with an original perspective views and a strong sense of humor.
The e-sports section is divided into amateur arenas (with HearthStone The Storm , Call of Duty: Black Ops 3 and Tom Clancy: Rainbow Siege and the area for professional teams, where the finals of the invitational yesterday ESL were played Counter Strike: Global Offensive (with Gbots victory against Baskonia) and today celebrate title="League of Legends League of Legends .
addition, the Euskalduna Palace there are different stands of Universities (U-tad, LaSalle, DigiPen) who report their various degrees in game development and may prove some independent games: The Delusions of Von Sottendorf and mind gridded , winner for Best Basque game in AZ Play contest was decided late on Friday Mind: Path to Thalamus , 8 Days , one of the games that concentrates more queues for probarlo-, Death & Glory ; WhileSpell , Clouds , Skara: The Blade Remains ; Demon's Crystals ; The Guest ; Metal Tales and sorgina Spirulina and the work of Kendaigames and Ratalaika studies.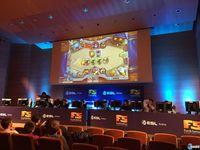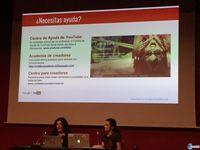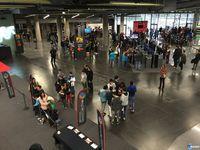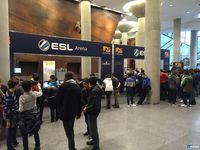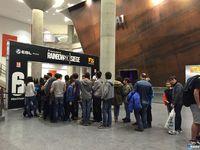 Feature: Fun & Serious Games Festival is full of activity in the Fun Zone