have Already spent a whopping twenty-five years since estrenase the wonderful 'life imprisonment' and, the truth, the quarter of a century does not seem to have been affected at all. And is that, each time it is issued unexpectedly on television, some kind of force, almost mystical forces to leave the remote on the table to return to see her for the umpteenth time, and finish crying like a magdalene.
But its director, Frank Darabont, has an explanation much more clear and earthly that gives meaning to facts that this adaptation of Stephen King continue to tethered to the post number 1 of 250 IMDB that stands as the film's best-rated in the history of the above 'The godfather'—: human nature.
"No matter how ironic it is a culture, no matter how sarcastic again, there are certain things to which people cling. There is a certain sincerity to which the people respond, certain generosity that people want to experience. I think people want to believe that there is goodness and a moral compass in the world. And I think that is what 'life imprisonment' has this effect on people. It is the element of the story of Stephen King that I reacted, and it seems an idea very timeless."
An industry with new priorities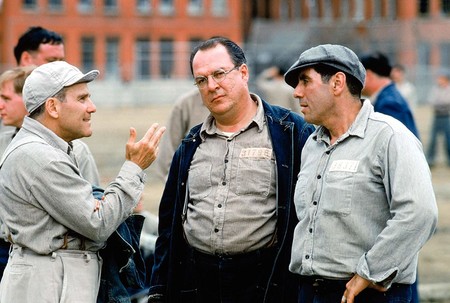 This reflection has been taken during an interview that the middle Indiewire has made the filmmaker on the occasion of the anniversary of what is probably his masterpiece. But the real diamond in the rough of the conversation between a filmmaker and ended up popping up when asked if he was going to to get back behind the camera to direct a new feature film; in which time let surface your disappointment in front of the current model of american industry.
"Well, that depends entirely on Hollywood. I'm not the guy that you'd want to hire to direct a superhero movie, and that seems to be the big focus these days. My kind of realization might be slightly plated to the old one. We will see if there is anything left of petrol in the tank for me, but I have a couple of things that I would love to do if I can find them a home and find financing. But I'm not going to hold my breath; this is Hollywood after all, and there are a lot of people putting blue tolerate it."
And, after this appetizer, Darabont, that has been here for ten years without a movie outing since the release of the splendid 'The fog', he launched the bomb: do not believe that 'life imprisonment' could be done today.
"I Am absolutely convinced that I could not make that movie today. I don't think that they could do 'The green mile'. I don't think that they could do 'The Majestic' today. I can't even begin to imagine the studio getting, which is what would have happened in 'life imprisonment' had it not been for [the production company] Castle Rock. Castle Rock was the magic kingdom. It was an extraordinary place founded by a filmmaker who understood the creative autonomy that a filmmaker needs to do the best job possible. I don't know if there is room in our business today for a company like Castle Rock, which is a puñetera shame."
With these declarations, Darabont adds to the voices that are being raised concerned —and that, personally, support— to see how the machinery of the seventh art feeds ever more figures, estimates and forecasts of risk, rather than from talent, freedom, creativity and good ideas.
you Can read full interview, in which the director talks about topics such as the advantages and disadvantages of digital projection in this link.
we Also recommend
Max Landis is accused of sexual harassment after the premiere of 'Bright'
The director 'Hereditary' is rejecting offers from Hollywood; his next film will also be horror and original
Nolan will shoot the biopic of Howard Hughes "some day" and points out the great problem of the Warner with the superheroes
–
The news , Frank Darabont says that 'life imprisonment' ('The Shawshank Redemption') could not be made in Hollywood today was originally published in Espinof by Victor Lopez G. .

Espinof
Frank Darabont says that 'life imprisonment' ('The Shawshank Redemption') could not be made in Hollywood today
Source: english
September 9, 2019