There are six different and are only available in their stores.
GAME announced Skylanders Superchargers Eon's Elite a series of figures with special design and more power in the game , will be sold on a Exclusive at its stores and its website. The Eon's Elite figures come in a case collector and tripling the powers of normal dolls in the last title in the series, Skylanders Superchargers .
New figures Eon's Elite Voodood, Zook, Slam Bam, Boomer and Ghost Roaster already available , selling Dino-Rang , the last of this new collection, set for the day December 11
In Skylanders Superchargers Spyro universe and their toys" come alive "in the play back again. The big news this year is the presence of vehicles , which can be used with all characters in the game, both current and past. When the character matches your vehicle will access an extreme version of the same call SUPERCHARGER.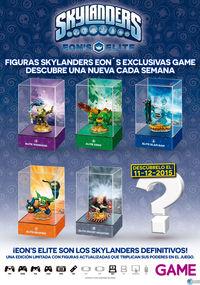 clear='all'/>

GAME sell Skylanders figures Supercharges Eon's exclusive Elite
Source: english
December 8, 2015