You return from 4 to 6 December.
The organization of Gamergy , the pioneering festival organized by IFEMA and the League of Professional Video on Multiplayer and eSports games, has announced that has closed its third edition with nearly 300,000 spectators, 28,000 of them being in person at the event.
This is a great success for the event, reflecting growth digital entertainment and eSports in Spain. More specifically, these figures represent a growth of 35 percent .
The event was well established in our country eSports games like , , FIFA , Counter-Strike or Battlefield , as well as games that begin to achieve the same Popularity professional competitive level, such as Super Smash Bros. , Dota 2 and Hearthstone .
4 to return Gamergy December 6, 2015 at Feria de Madrid , more space, more games and the ninth edition of the LVP FinalCup.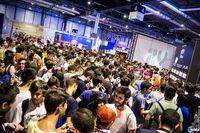 clear='all'/>


Vandal
Gamergy closes its third edition with nearly 300,000 spectators
Source: english
July 2, 2015