Now that Swype has ended its support, the keyboard Google gains more relevance. the GBoard works really well and already goes by the version 7.0. After you turn on the handwriting, we now have a series of add-ons that seemingly go unnoticed but it will help us to write more fluid and comfortable from the mobile phone.
GBoard 7.0 is available for install manually and it will arrive to Google Play over the next few days. Those upgrading will find a improved support for multiple languages, an option of auto completion of mail, and universal search of any type of files, very useful if you want to send an image or a GIF. Let's see how they work.
Photo by Sergey Zolkin from UnsplashWell, Xf...

What is Inat Tv Pro?Inat Tv Pro APK for Andr...

The cryptocurrency market has exploded in po...
Autocompleto mail
Until now, the suggestions on the keyboard of Google we never autocompletaba our e-mail account or that of any of our contacts. However, it is something that we tend to write quite a bit. Starting with version 7.0 when we start typing the address it will give you the entire mail.
If we don't want to Google it suggests to us an account, selecting we can remove it from the list. As we do with any other word.
Changes in the menu is multilingual and new languages like the chinese and the japanese
The keyboard Google allows us to have two languages at the same time. It works in a simple way but now in this latest version they have modified the menus for the settings. Now to edit we will have to go to the menus for each language and there you can choose between the different options that the language allows us to.
have Also added two languages widely used, the chinese simplified, or chinese traditional, and Korean.
universal Search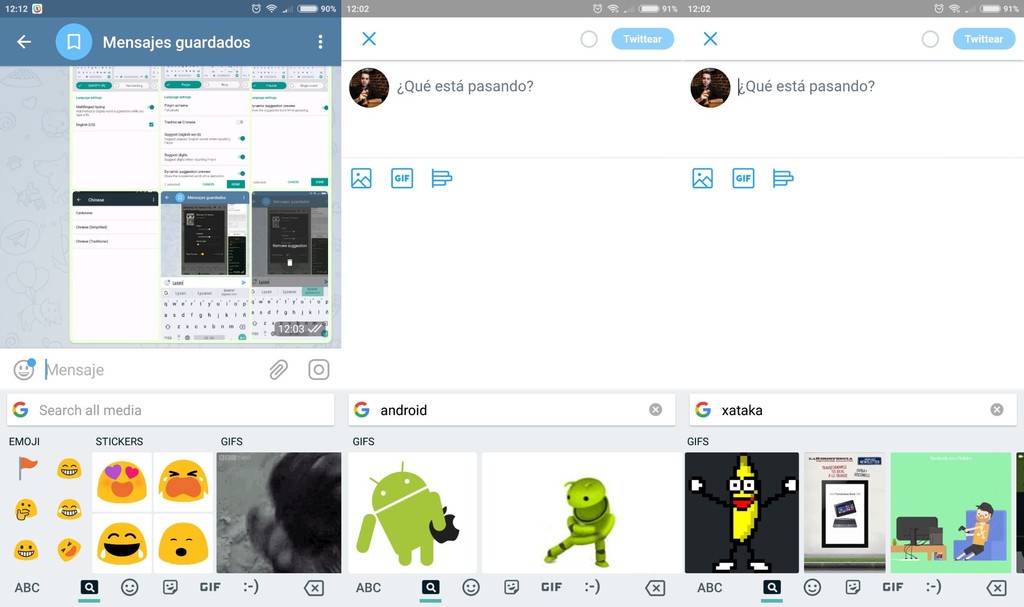 But without doubt, the main addition of this version 7.0 is the universal search. The keyboard Google already allowed us to introduce GIFs and other images, but now it has added a search button in which you can insert a word and find all kinds of related multimedia content.
A search button at the fingertips of our keyboard, very useful if for example we want to send GIFs of a specific topic or images of what we're talking about. And of course, being from the keyboard will be compatible with all types of applications, such as for example WhatsApp.
If you want to try GBoard 7.0, from APKMirror are available the file of the beta. For the rest of the users who don't mind waiting, since Google Play will end up coming to all users. We will update when it is available already to all in the final version.
Keyboard Google
Varies with device
Via | 9to5Google
Xataka Android | 31 tricks to get the most out of the keyboard Gboard Google
–
The news GBoard 7.0 beta adds universal search for images or GIFs, auto-completion of emails and support for new languages was originally published in Xataka Android by Enrique Perez .

Xataka Android
GBoard 7.0 beta adds universal search for images or GIFs, auto-completion of emails and support for new languages