After a long time waiting for its release, Google Opinion Rewards came to us Spain last November, opening a ne...
After a long time waiting for its release, Google Opinion Rewards came to us Spain last November, opening a new window of opportunity for all Android terminals in the country. Its premise is quite clear, simply sign up with your Google account in the application to start receiving surveys and earn credit for the Play Store.
In just five months I achieved 16.42 €, answering only won the famous surveys. But on the other hand, I have friends and colleagues who get little or no questionnaire, which among many reigns governed ignorance of how Google Opinion Rewards facing users
.
How to act for more surveys in Google Opinion Rewards
the answer may seem obvious, but it depends on the location of your smartphone, so you must activate the geolocation constantly. As it does not require much accuracy I always carry in saving battery mode (Settings> Location> Mode> Battery Save) and leave the High mode precision when I use the map really, and has been enough for this app.
Secondly, it is very useful to have enabled the Google location History. This service constantly keeps your location and tells you through Maps, places you've been visiting throughout the day, so simply explained. To activate just go to the side menu Maps, click on your timeline and follow the steps shown on the screen.
You might ask, how do you take these data for sending surveys the app Google Opinion Rewards ? Very easy, when the application detects that you have gone through a certain stores or you've gone to buy a particular place sends you surveys related to these businesses or with others nearby.
Therefore, the third key is basic routes do shopping areas, where establishments participating in the promotion is. Otherwise, the number of questionnaires sent by the app will be quite low, just some generic. This leaves out all the people who do not live in urban.
To me has happened to me, because lately I've hardly had time to go to the center of my city or visiting centers commercial, so since last 26, Google Opinion Rewards not send me any costs. Before, there were days that following these habits more often I have come to a couple of daily surveys.
You have to know that journeys last for several days in the history, so if you vary from time to time your daily routine will increase the chances of being surveyed because it is getting fatter the number of hot positions that have already been tracked down temporarily.
Beware of shortcuts
Thanks to these parameters, Google uses your information to know what is most relevant to each user. Although there are some exceptions like last on qué name put Android N, the vast majority of questionnaires have been on certain undertakings.
also varies the amount of money you're getting for each completed form, always with a maximum of 0.75 euros.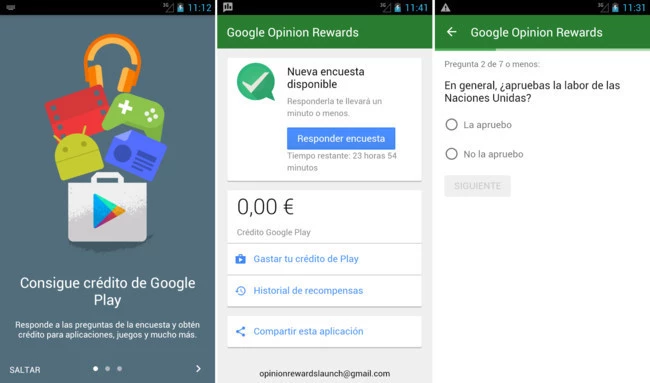 Then there is plan b, which involves tricking the application to send you surveys that are really related with you. The easiest way is to install a system connection and choose VPN servers in other countries, especially those in which Google Opinion Rewards works harder as the US and UK. It is against the participation agreement and you should know that there is control, which can also fall into the traps of Google.
As a tip, avoids answering surveys thoughtlessly, since the company places sometimes fictitious companies they track down cheats. Selecting one of them and complete the whole process you enter the blacklist and the Mountain View never send you more, that is, you will not gain more credit. That is.
Finally, for those who do not know, the credit may be used to buy absolutely everything in the Play Store, from applications and games subscriptions, movie rentals or even integrated shopping the application.
there is no foolproof way to get all surveys Google Opinion Rewards and no one will get rich with this app trick, but the advice that I have mentioned are the most useful to have a live account and remove some euros without the work.
In Engadget Android | Así you can get paid apps for free (or almost) Android legally
–
The news How to get more money into Google Opinion Rewards with a few simple tips was originally published in Engadget Android by Sergio Figueroa.
Engadget Android
Roomer, an Israeli platform, looking to resell all those hotel stays...
The premiere of 'Rocky Balboa' in 2006 seemed to put an end to a fran...
formerly Known as Rune: Ragnarok, offers us a tumultuous and dangerous wor...
RapidX MyPort is a charger that is wireless, which allows you to charge th...
Bibliography ►
Phoneia.com (March 25, 2016). Getting more money on Google Opinion Rewards with a few simple tips. Recovered from https://phoneia.com/en/getting-more-money-on-google-opinion-rewards-with-a-few-simple-tips/

About the author
---
This article was published by
Phoneia
, originally published in English and titled
"Getting more money on Google Opinion Rewards with a few simple tips"
, along with 18987 other articles. It is an honor for me to have you visit me and
read my other writings
.