Not all what's new Android 10 have been received with open arms, there is a change in the new version of the operating system that nor Google have liked. It is the new form of configure the supported bindings to be open from a particular app.
When you click on a YouTube link, Twitter, Facebook, or Instagram, among others, the system asks us if we want to open the link from the browser or from your official application, asking in addition if we wanted to open it only once or always that type of link with a particular application. is On Android 10 was complicated, this configuration.
Open links compatible with…
Until Android-9, in the same window 'Open with' we could select the application and then tap on 'Always'. So we had already configured that, for example, links from Twitter are always open with the Twitter application. And most importantly, it will automatically opened the link with the selected application is nothing more pressing in 'Always'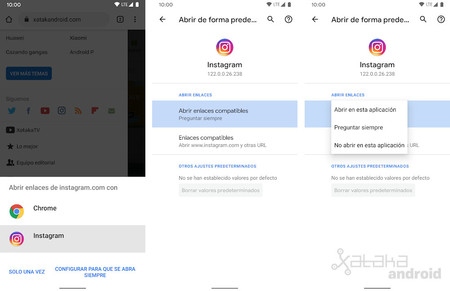 In Android 10 the thing has been complicated and spoiled. Now the window 'Open with…' no longer asks if you want to always open such a link with the selected application, but invites you to configure it to always open. This option opens the settings window so you can configure if you want to opening links with this app, always ask, or don't open ever with that application…
Here we see that what before did it with two simple keystrokes now do more than four. And the worse is not this, but that we need to step back to get out of that setting, and most of the time we do not open the clicked link, but that we move back to the application in which we hold the link, with what we have to click on the link.
We are also not happy with it for the reasons you listed (and some others!) and are working on it

— Glen Murphy (@gmurphy) December 4, 2019
Artem Russakovskii the founder of Android Police and APKMirror complained about this new behavior of Android 10 via his Twitter account, which Glen Murphy, chief designer of Android and the software of the Pixel replied "we're Not happy with it for the reasons you mentioned (and some others!) And we're working on it".
we Now know that Google will not like this new behavior when you configure the bindings supported, and what lay in the future. What is not known is if there will be that wait to Android 11, or if the fix will arrive with some security patch.
Via | Android Police
–
The news Google also doesn't like how Android 10 manages the links compatible, are already working to fix it was originally published in Xataka Android by Cosmos .

Xataka Android
Google also doesn't like how Android 10 manages the links compatible, are already working to fix it
Source: english
December 10, 2019