The application of Google Calendar you want to shorten distances with its web version, and this prepares the launch of another feature that we still do not have Android: the Google Tasks integration.
From the web version of Google Calendar, we can view calendar tasks and add new tasks, a feature that the Calendar application is already preparing for its next release.
Tasks in Google Calendar
At XDA-Developers have managed to activate this feature that is not yet activated in Google Calendar, and that it is expected that during the next few weeks be officially launched.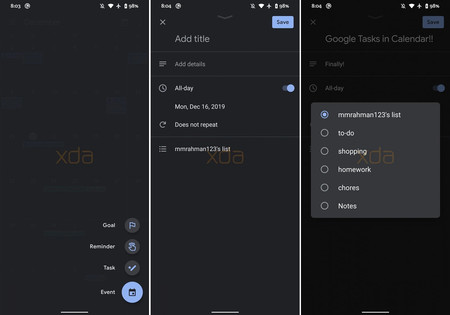 The Google Tasks integration with Calendar means that we can create and edit tasks from the Calendar, but we can only create tasks without subtasks but if we can configure the replay and assign it to a list of tasks.
In the application Google Tasks see those tasks under the design of task-list with their check boxes, while in Google Calendar, we will see each assignment on the day and hour of termination.
there will be No need to have installed the application Tasks of Google to be able to create tasks from Google Calendar. The Calendar application will alert us with their new task notifications that we can disable if we have the implementation of Tasks installed, and we don't want to receive a double notification.
Google Calendar
Via | XDA-Developers
–
The news Google Calendar for Android integrate Tasks so that we can create tasks from the calendar was originally published in Xataka Android by Cosmos .

Xataka Android
Google Calendar for Android integrate Tasks so that we can create tasks from the calendar
Source: english
December 17, 2019