has been leaked that the next preview of Android Q Beta 5 for the Pixel will come with a new version of the Camera Google, specifically the release 6.3, which adds a couple of interesting new developments at the same time that advances the future of this application.
version Camera Google 6.3 is expected to arrive in the coming weeks through an update in the Play Store, although you can already update your Pixel from the APK update.
night Vision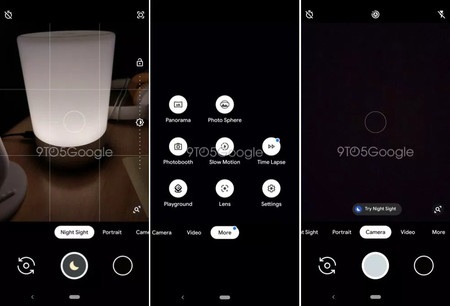 The famous night Vision of the Pixel will now have more prominence on the main view of the application. No longer be hidden in the more menu modes. Will now be in the main menu, in the place where until now was mode Panorama mode, an option that is now going to the drawer for more options.
Goodbye to white balance
Google Camera 6.3 has gone the manual control of white balance, now always will be automatic. It seems that there is no way to activate this manual control from the application settings.
Mode 'McFly'
The Google team is testing a new mode for your camera. It's called 'McFly', the protagonist of Back to the future, and the word "rewind" appears in the references of the code of the application. It seems that it will be for shooting videos destined to be played upside down. The name 'McFly' is its codename, the final version will have another name.
Tips Selfie
Another new feature that will be added in the future will be that when you turn on Selfie show us tips on how to improve our self-portrait some tips that will give us the camera will pick up the mobile and/or change the angle to exit without dewlap and most favored.
Compatibility with the new Pixel 4
finally, this new version is preparing its compatibility with the Pixel 4, by adding references in your source code, the upcoming devices from Google, with code name "Flame" and "Coral".
Via | 9to5Google (2)
we Also recommend
Camera Google 3.2 adds interface changes and allows you to take photos while recording
Camera, Google premiered the manual adjustment of exposure with Android 7.0 Nougat
Camera Google 4.4, what's new: flash for selfies, double-tap to zoom more news
–
The news Google Camera moves from site the 'night Vision' and advances its upcoming new features: mode 'McFly' and tips Selfie was originally published in Xataka Android by Cosmos .

Xataka Android
Google Camera moves from site the 'night Vision' and advances its upcoming new features: mode 'McFly' and tips Selfie
Source: english
July 4, 2019