Google continues to implement improvements in the official Android app to send messages (now simply called Messages). Lately, she has been working on its web client, who arrived a few months ago all the desktop operating systems, including, of course, Chrome OS.
The efforts of Google have been focused on achieving a deeper integration for Chromebooks and already have begun to give their results, how could it be otherwise, in the Pixelbook. There is No doubt that with it, Google aims to offer something similar to what is proposed by the Messages app (iMessage) on Apple: a total integration in all the computers and operating systems of your ecosystem.
full Integration in Chrome OS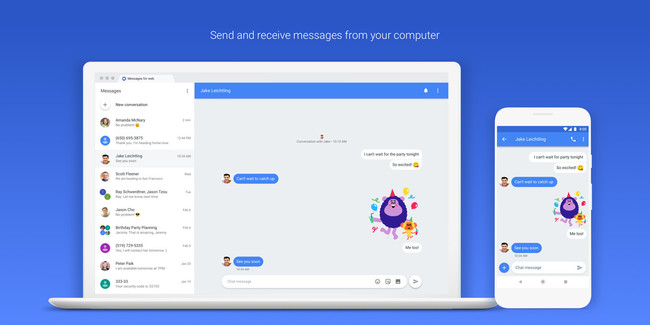 As we have said, the web version of Messages Android, which allows you to send SMS and chat (RCS) from the comfort of our computer or laptop, came a few months most of the browsers on all desktop operating systems: Chrome, Mozilla Firefox, Safari and Microsoft Edge (no, it is not compatible with Internet Explorer).
But Google was not happy with this and wanted that, in the case of Chrome OS, the integration even more complete. Precisely the loss of the name "Android" in the name of the application Messages already gave us a hint of their intentions. Now, finally, we are seeing the first results of this strategy in the Pixelbooks.
The implementation in Chrome OS we can now send and receive text messages from a Pixelbook even though we are not open the web client Message
As part of the set of functions "Better Together" (a term Google refers to the integration between Chrome OS and Android), the application allows us to now, for example, send and receive text messages from a Pixelbook even though we are not open the web client Message.
This is possible because the Messages app Android now you can install as a web application progressive, something that is already available along with the rest of the characteristics of Better Together in the Google Pixelbook and, hopefully, do not take long to reach the rest of the Chromebooks.
in order To enjoy these features, you just have to enter in the website Messages and open the menu in a browser of Chrome OS that supports installation of web applications progressive (such as Google Chrome 70). By clicking on the button "Install Messages Android" (it is curious that here still shows the word "Android"), it will install the web application to progressive Messages and you can send and receive text messages without having to hold open the web client.
Mensajes
Varies depending on the device.
Via | XDA Developers
–
The news Google improves the integration of the Messaging application in the Pixelbook was originally published in Xataka Android by Laura Sexton .

Xataka Android
Google improves the integration of the Messaging application in the Pixelbook
Source: english
October 18, 2018