When we visited for the first time a restaurant we tend to look in the first place, their assessment, and in the second place, to look among their comments and photos to the recommendations, discover what are the most popular dishes to not fail. Well, now Google Maps provides us with this last task with its new section.
The application Google Maps for Android debuts the 'Letter', a new section which will show us the popular dishes of each restaurant, with photos and comments on each plate in the letter.
popular Dishes
To discover the popular dishes of a restaurant we just have to open your tab, and pressing in the new tab 'Letter'. There you will see all the photos of the most popular dishes on the basis of the number of photos and positive comments received. In the tab 'Information' you will see a small card with some of the most popular dishes.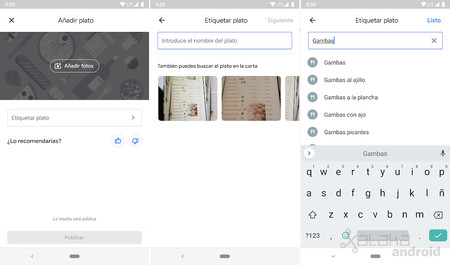 Google Maps allows you to add dishes uploading your photo and name. We can also add the name to dishes that do not yet have a name. At the time of putting a name it is possible that Google Maps let us see the menu of the restaurant to know the exact name of the name. It also has a auto-complete with the most popular names of dishes.
This novelty is going to become a must for all comidistas who enjoy eating out and discovering new sites. Now besides being able to find restaurants with better valuation will also be able to see which are their star dishes, the most ordered and most recommended by its customers.
Via | Google
we Also recommend
Google Maps Snake: so you'll be able to play this new version of the snake on your mobile
Google Maps is debuting a new view offers in the chips business
The radar of Google Maps come to Spain together with the report of incidents of traffic Waze
–
The news Google Maps: how to discover the popular dishes of a restaurant was originally published in Xataka Android by Cosmos .

Xataka Android
Google Maps: how to discover the popular dishes of a restaurant
Source: english
May 31, 2019