This summer, Google Maps premiered in India the new function 'Stay safe', which alert us if our taxi was diverted from its route faster.
Four months later, it seems that Google Maps has started rolling out this new feature around the world, since there are several users of different countries have reported that they have been activated this new security feature.
Stay safe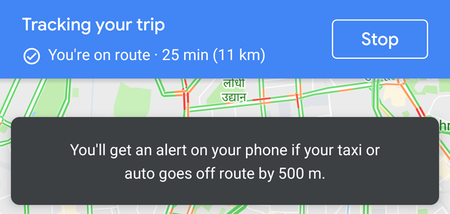 'Stay safer' (to Keep it safe in Spanish) is a new tool for the car navigation that offers us two options: to share our journey in real time with our contacts with the new option 'Get off-route alert', which allows us to to receive alerts when the car leaves the path.
This new option makes it as a security measure, we advise you when the taxi or car with driver deviates more than 500 meters of your route. So we can know if we want to trick to charge us more to do more miles.
As we said at the beginning, until now this feature was only available in India but in the last hours are several users of different countries, such as united States, the Netherlands and Malaysia, notifying you that the notice that the taxi has deviated from its route has been activated. We do not know if in Spain has begun the deployment of this new option.
to Picture | Flickr Via | Android Police
we Also recommend
Google Maps now, you will predict the agglomeration of public transport and will inform you of delays
How to notify of a traffic incident with Google Maps for Android
Google Maps improves their lists of places ahead of the imminent closure of Google Trips
–
The news Google Maps launches in more countries, the function that notifies us when a cab deviates from its route faster was originally published in Xataka Android by Cosmos .

Xataka Android
Google Maps launches in more countries, the function that notifies us when a cab deviates from its route faster
Source: english
October 21, 2019