on The 1st of April is the April Fools' Day, the day of the innocents to the anglo-saxon and other countries, and as is already tradition, the companies begin to publish their jokes for you to spend fun moments with their customers.
Google premiered the day of the pranks of April released in Google Maps for their own version of the Snake, the mythical snake game that so many players enjoyed more than a decade ago in your Nokia.
Google Maps Snake
To play the Snake Google Maps so we just have to have updated the Google Maps app to the latest version and wait for the icon of the "hamburger" from the side menu turn your lines in the play of the Snake. Once you can see the new icon already and we only need to deploy the side menu and click on the new option Play snake.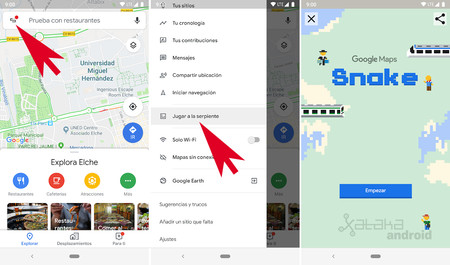 This mini-game allows you to select between seven destinations, each one modifies the design of the snake with the characteristic aspect of the public transport of the chosen city.
Using gestures on the screen we have to go picking up passengers, and different objects to get more points. The game will end when we get out of the map or we choquemos with our own wagon. We will be able to share on social networks and messaging applications our score.
Google Maps Snake will only be available for limited time, Google reports that it will be able to play this snake game for a week approximately.
we Also recommend
These are all the deaths that would have suffered without technology
Google Maps is debuting a new view offers in the chips business
Google and the Maps are added to YouTube in the exclusive club of apps with more than 5,000 million downloads on Google Play
–
The news Google Maps Snake: so you'll be able to play this new version of the snake on your mobile was originally published in Xataka Android by Cosmos .

Xataka Android
Google Maps Snake: so you'll be able to play this new version of the snake on your mobile
Source: english
March 31, 2019